How to Not be a Tourist in Milan | Six Tips on Getting an Authentic Experince
If this is your first trip to Italy you are probably very excited, and Milan, being a fashion capital of the world, is most definitely on your list. In today's post, I will share my impressions from Milan along with some tips on how to NOT be a tourist in Milan and enjoy the city in a more authentic way.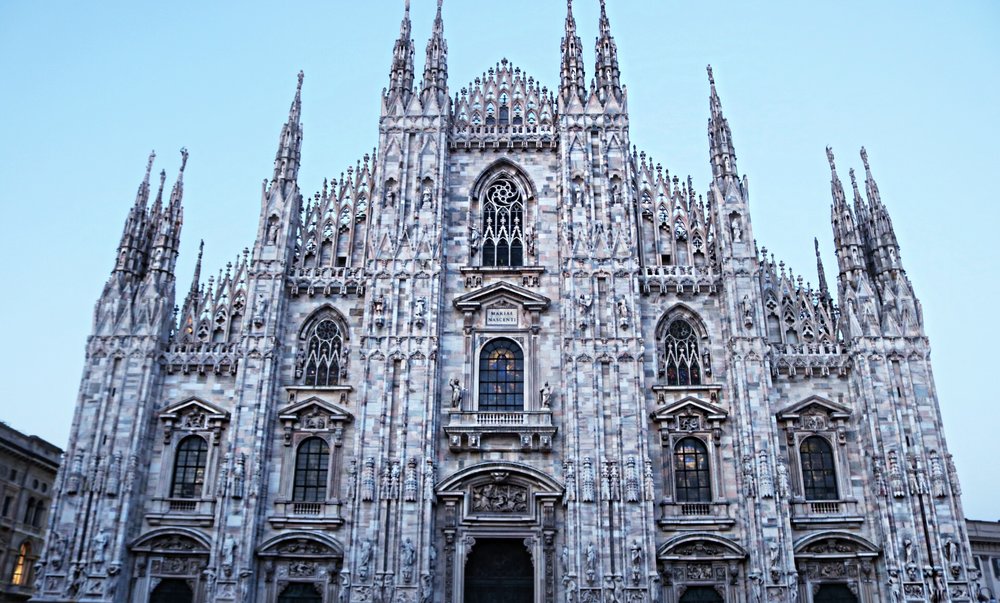 Let me just say this: Milan is definitely an interesting city but not particularly beautiful, architecturally speaking, and fashion wise. Yes, yes, I know, you probably are expecting to see everyone dressed like on the runway there but that is not the case. You will probably see a lot of bloggers dressed well during the Milan Fashion Week, but other than that, expect jeans and t-shirts and a lot of tourists.
Milan certainly has charming sights, like the Navigli district, its famous Cathedral, the Sforza castle and many others, all of which attract a lot of tourists. That's not to say that you won't have a great time in Milan if you steer clear of the tourist places and hunt for city's hidden charming spots.
So, what to do in Milan in order to have an authentic experience?
Go on a food expedition. Milan has great and unique restaurants, so, if you are a foodie, you will have fun. Do avoid the pizza places. As you will soon discover, Italian pizzas are mostly vegetarian and unless you are in Naples, you may be a little disappointed about it. Do try places like Joia Kitchen, which is vegetarian. Or try El Brellin in the Navigli district and enjoy the vivid atmosphere on the canal.
If you absolutely must see the Milan cathedral, by all means go. The architecture is impressive and very unique, but be aware that everyone who goes to Milan wants to see it. I took a lot of pictures but sadly, they were all erased by accident, so that's that J. But getting back to my point, be prepared - seeing the Duomo can be trying experience if you dislike crowds, like me :). To make this more palatable and not end up spending half a day in line, buy your ticket online and skip the line. You can do that by going to the Tiquet website, which also has an app for the IPhone ( not sure about the android phones, so, check). You can purchase your tickets on that website for all the attractions in Milan (and other cities such as Florence, which came in handy later :)) and pick them up in the designated area behind the cathedral. You'll get priority entrance and an elevator access to the top of the cathedral as well if you choose so. Personally, I recommend the access to the top of the cathedral as the view of the city from above is just splendid.
Steer away from the cathedral if you are looking to sit down for coffee or food. The further you venture, the more interesting places you'll find. Also coffee will get cheaper and so will the food. Coffee is great everywhere but the food will always be better at the smaller places where it will be more authentic and reasonably priced.
Do try the gelatos. They have lots of fruit and nuts and the cones are artworks in themselves.
If you watched and liked the Borgias TV series, go see Lucretia's love letters. They are said to be the sweetest iterations. Or see the skeleton sculpture and the let-me- give-you-the-finger sculpture in the financial district (also pictured in my post here and bearing the title L.O.V.E J).
If shopping is something you want to do in Italy, by all means do shop. They have the Rinsacente building that is great department store but also designer shops and smaller boutiques the further you go from the cathedral. I shopped at MaxMara and although we have the designer's stores in the US as well, you will find that the selection is quite different and the prices are lower. Also, you can get your tax refunded ( which is 12%) if your purchase is above $154 by the Global Blue Lounge. Just ask for a tax form every time your shop above that amount ( it doesn't have to be $154 per item, it just has to be your total on your purchases!
I hope you enjoyed this post. Stay tuned for my out-of-this world experience in Florence.
Also, SUBSCRIBE to my newsletter – I'm bringing back the Friday giveaway series for my new and existing subscribers !
XX
Isabel
LIKE IT? SHARE THIS POST WITH YOUR FRIENDS!