Wear A Boyfriend Blazer With A Lace Top To Dinner And See How Luxe Your Valentine Outfit Will Look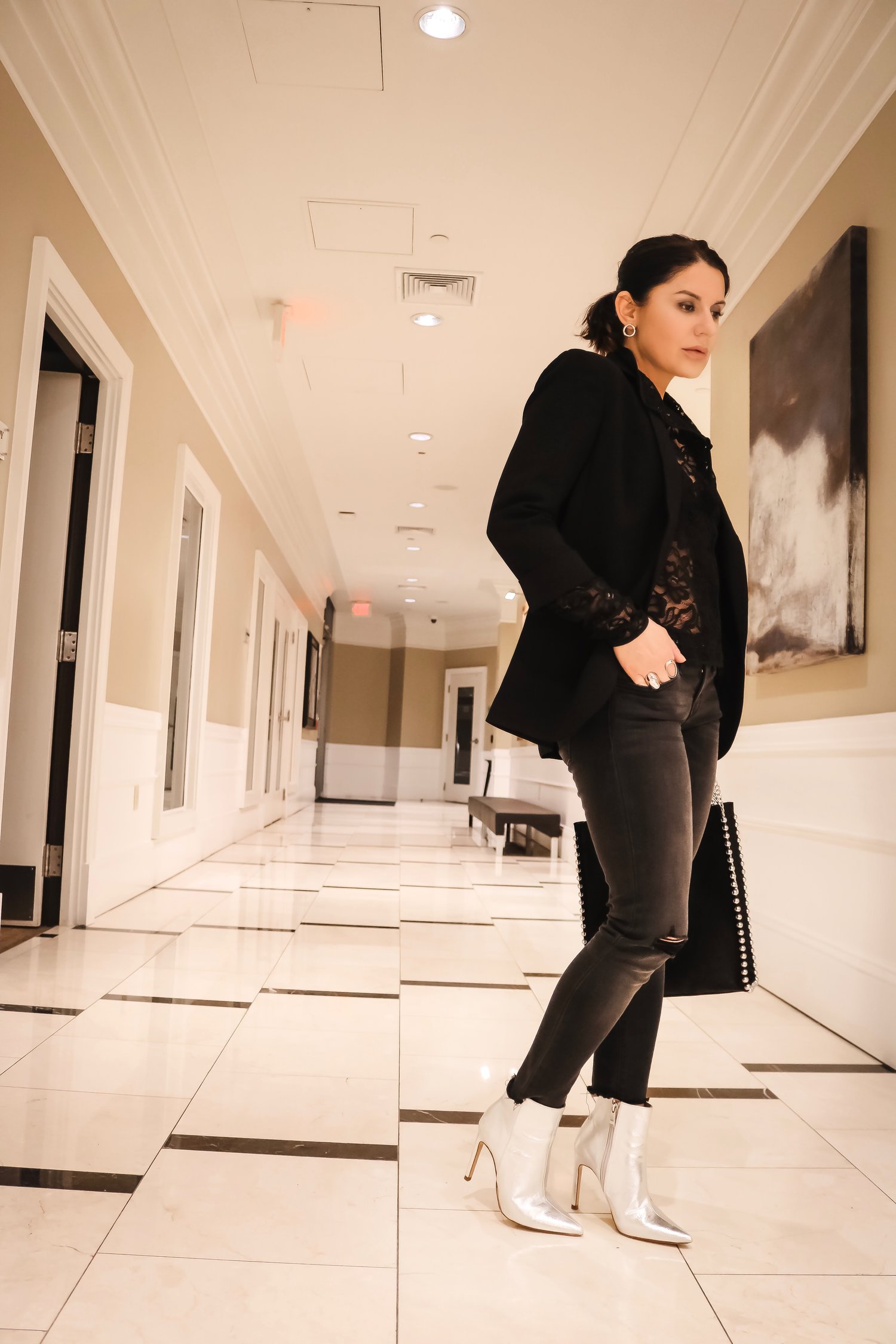 Just a few days ago a wrote a post From Office To Dinner: A Chic Valentine's Day Outfit That You'll Wear Again and while I was writing it, it dawned on me that I could have shown you a few more fun and easy ways to style a date night look with just some quick adjustments, based on your style, preferences, venue, and occasion. So, here is it, that promised, spin on the look that I mentioned in my previous post: the same blazer styled this time with a different denim, boots, and top if you want a little more polish extravaganza for that night but the same effortless vibe.As usual, below see my easy-to-follow style tips.
STYLE TIPS:
Layer a high neck lace top with a boyfriend blazer. You should have one in your arsenal by now and if you don't, I highly recommend that you get one as it is great for office if you want to instantly polish your khakis or over your denim if you want to elevate your ripped denim :-)
Add some ripped denim and pair them with some ankle pointy toe boots. You can go for a black patent or a silver pair, like mine for maximum impact :-)
Add a studded bag. I chose an oversized one because it looked interesting for the evening and you can tell that this bag is not a business bag despite its larger size. The oversized yet classical shape brought some interesting touch to the entire look, in my opinion. I thought I could have someplace to put my gift(s) and flowers, after dinner :-)
I am adding below as well some shopping links, should you venture to try some of my styling suggestions:
SHOP MY PICKS:
Thank you so much for stopping by. I hope you enjoyed my post :-). If you did, you may like as well: The Trendiest Boots And Bags That You Should Invest In This Year Are Also Timeless And Practical, 6 Cool And Fun Ways You Can Style Plaids In An Innovative And Unexpected Way, and From Office To Dinner: A Chic Valentine's Day Outfit That You'll Wear Again.
xx
isabel
LOVED THIS POST?? PLEASE SHARE IT. ALSO FOLLOW ME ON BLOGLOVIN SO THAT YOU NEVER MISS MY POSTS!