3 Ways To Wear Silver Boots This Season and Look Magazine Ready for Daytime, Date Night, and Girls Night Out
If you are following my posts, you already know that I like to stay away from trends as much as possible. And that's because, as mentioned many times before: they are fleeting and have more to do with marketing and sales than actual style and creativity. Now and then, however, exceptions are made, especially when I spot items that lend themselves to great versatility. That said, in today's post, I'm going to feature exactly one of those trendy items, specifically, I'm going to show you 3 ways to wear silver boots this season and look magazine ready for daytime, date night and girls night out.
BOOTS FOR DAYTIME
So here is the thing about silver boots: they really polish an outfit. You may think that they may a bit a much for the day, but if you keep things simple, they will actually add incredible polish as opposed to looking tacky, as you probably thought they would. (I know I did, not long time ago :-) )
So, here's how you can keep things simple and easy: pair a white tee or top (I opted for a knit one because it is cold here and I kind of like the added bonus of the knit texture) with some skinny denim and add a boyfriend blazer on.
For my blazer, I opted for a black one with a boyfriend cut, a recent purchase from Express, that yet again, was such an inspired and versatile purchase. To learn about more ways to style a boyfriend blazer, read my dedicated post on the subject HERE
As for the denim, my advice is to keep it at ankle length. You can have regular or raw hems, but the important part is that they hit your ankle. Now add the silver boots and see the transformation :-).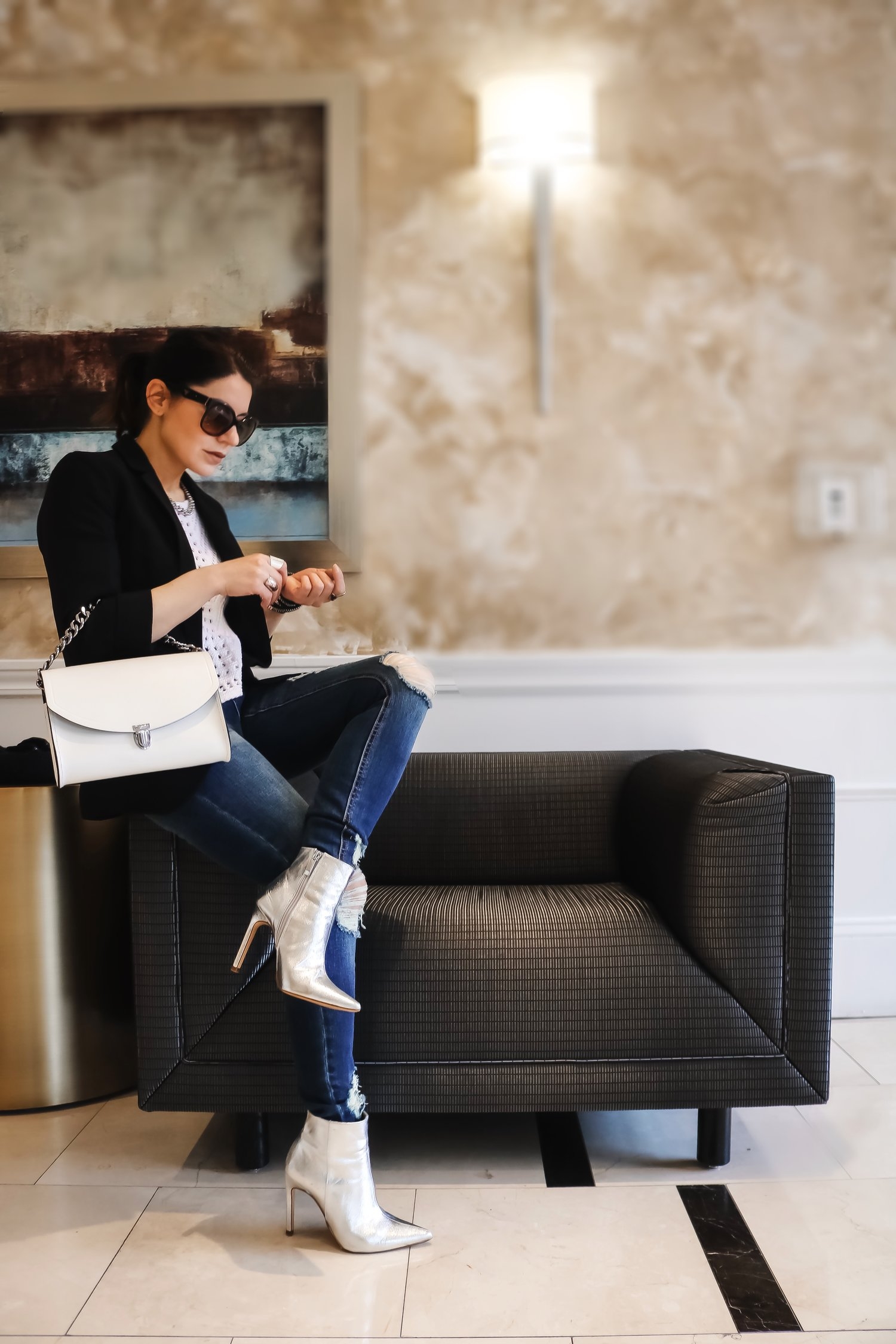 SILVER BOOTS FOR DATE NIGHT
For this look, I opted for a coated denim and a plain oversized shirt that I borrowed from the boys. I literally picked a men's shirt and sized it up a few sizes to get that loose look. I also wanted to have it longer because I intend on styling this shirt in the future with mini skirts, so, stay tuned for a 'borrowed from the boys' styling series (coming up soon!).
I rolled up the sleeves, opened up some buttons and added several chunky bracelets and chains. You can layer chains with pearls for a more feminine effect or add even more chunky metallic jewelry. I recommend chunky/oversized pieces because the end result is extravagant yet stylish (that's because the rest is so simple in cut and color.)
The coated jeans are self-explanatory. Mine have some button details on the side but you can go with plain ones. I've linked both for your convenience.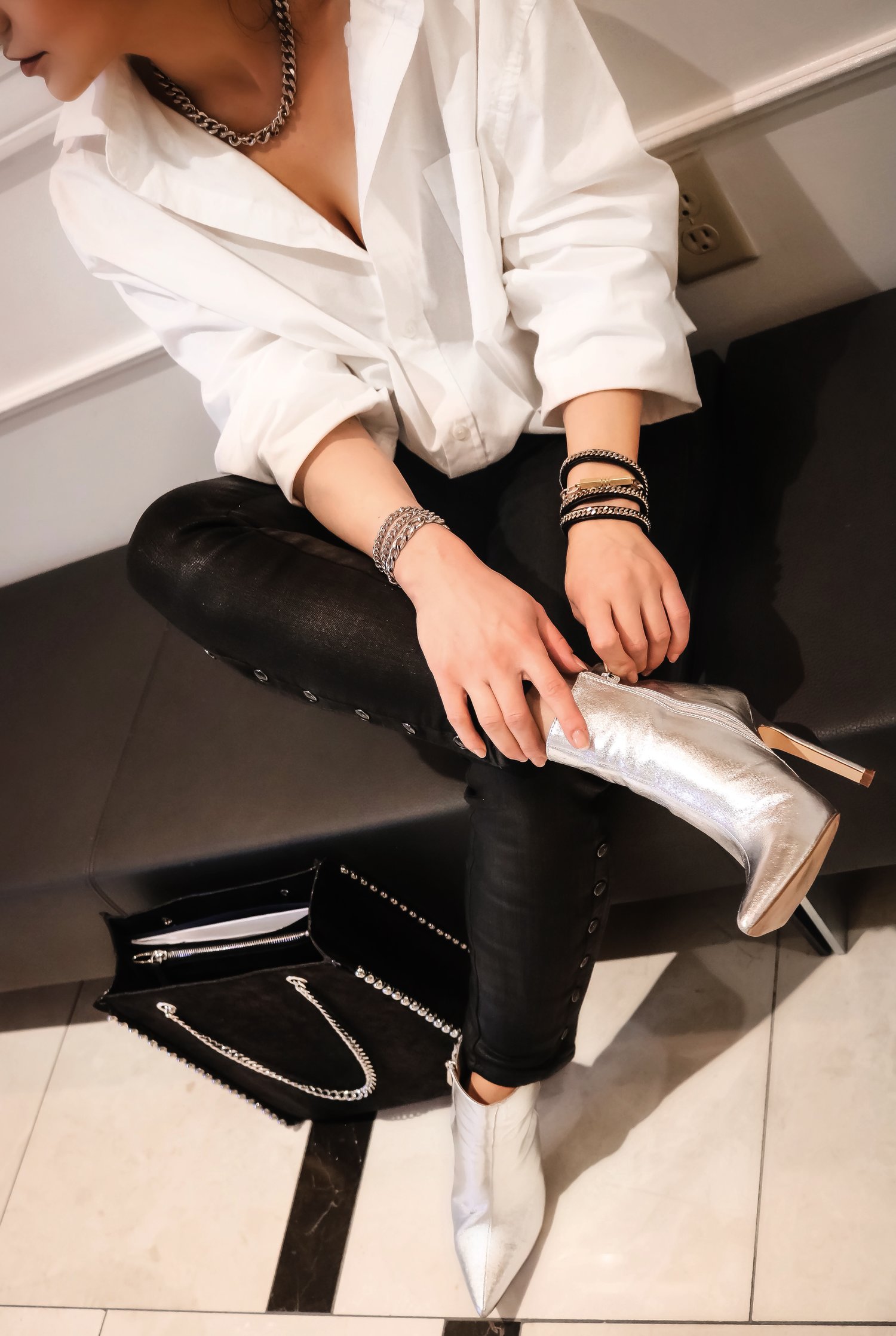 SILVER BOOTS FOR GIRLS NIGH OUT
For this look, I went with a silk cami with a lace trim, an oversized patent belt, a mini skirt, some fishnets, a suede moto jacket and of course, the silver boots, that pulled the entire look together.
This look is the cheekiest of them all, hence the fishnets, but hey, girls want to have some fun, right? The silk cami should be already in your closet in yours "staples" department alongside the boyfriend blazer, and if it not there yet, consider this an opportunity to invest in one (I have included below a few shopping links for various price points and options). The moto jacket balances the look and adds a little badassness, and the silver boots - lots of polish and fun, don't you think??
So that's that for these boots. I thought they really added a lot of polish to all my outfits and I personally bought them initially for my Valentine's outfit but ended up styling them with lots of my other casual and less casual attires, the reason why I decided to write this post and share my little "discovery" with you.
SHOP MY PICKS:
Below, I am including the shopping links to the items I wore, plus some additional options for variaty, styling and affordability purposes.
DAYTIME LOOK: Denim - HERE & HERE //Top - HERE & HERE //Boyfriend blazer - HERE & HERE //Silver boots - HERE & HERE, HERE (designer & a little over $100 options); HERE (under $61) HERE & HERE (under $40) // Bag - HERE & HERE //
DATE NIGHT LOOK: Coated denim - HERE & HERE // White Shirt - HERE (size it up 3 sizes at least; I picked an L size although I usually wear XXS in petites :-))//Bag - HERE & HERE //Silver boots - HERE & HERE, HERE (designer & a little over $100 options); HERE (under $61) HERE & HERE (under $40)
GIRLS NIGHT OUT LOOK: Cami - HERE & HERE // Wide belt - HERE //Mini Skirt - HERE, HERE & HERE // Fishents - HERE & HERE //Jacket - HERE & HERE //Bag - HERE //Silver boots - HERE & HERE, HERE (designer & a little over $100 options); HERE (under $61) HERE & HERE (under $40)
Thank you so much for stopping by. I hope you enjoyed this post and if you did, feel free to SHARE IT. You can also find me on INSTAGRAM where I post daily outfits with one liner style tips, share some of my favorite skincare and fragrances, restaurants I visit and things alike.
I am also on now on MEDIUM and BLOGLOVIN.
SUBSCRIBE HERE if you would like to receive a weekly cheeky hello in your inbox from me whenever a new blog post is up. You can also chat me up and let me know what fashion issues keep you up at night :-)
if you missed my latest luxury series posts , you can read them here:
The Art of Dressing Like A Blogger on a Shoestring Budget by Employing Creativity, Smarts, Know-How, a Little Thriftiness, and Timeliness
How and Where to Score the Latest Designer Shoes Your are Dying for Like Prada, Alexander Wang, Givenchy | Part 2 - On Luxury and Quality On A Budget
XX
Isabel