From Airport to Runway | How to Transform Your Travel Outfit with a Few Quick Changes and by Accessorizing the Right Way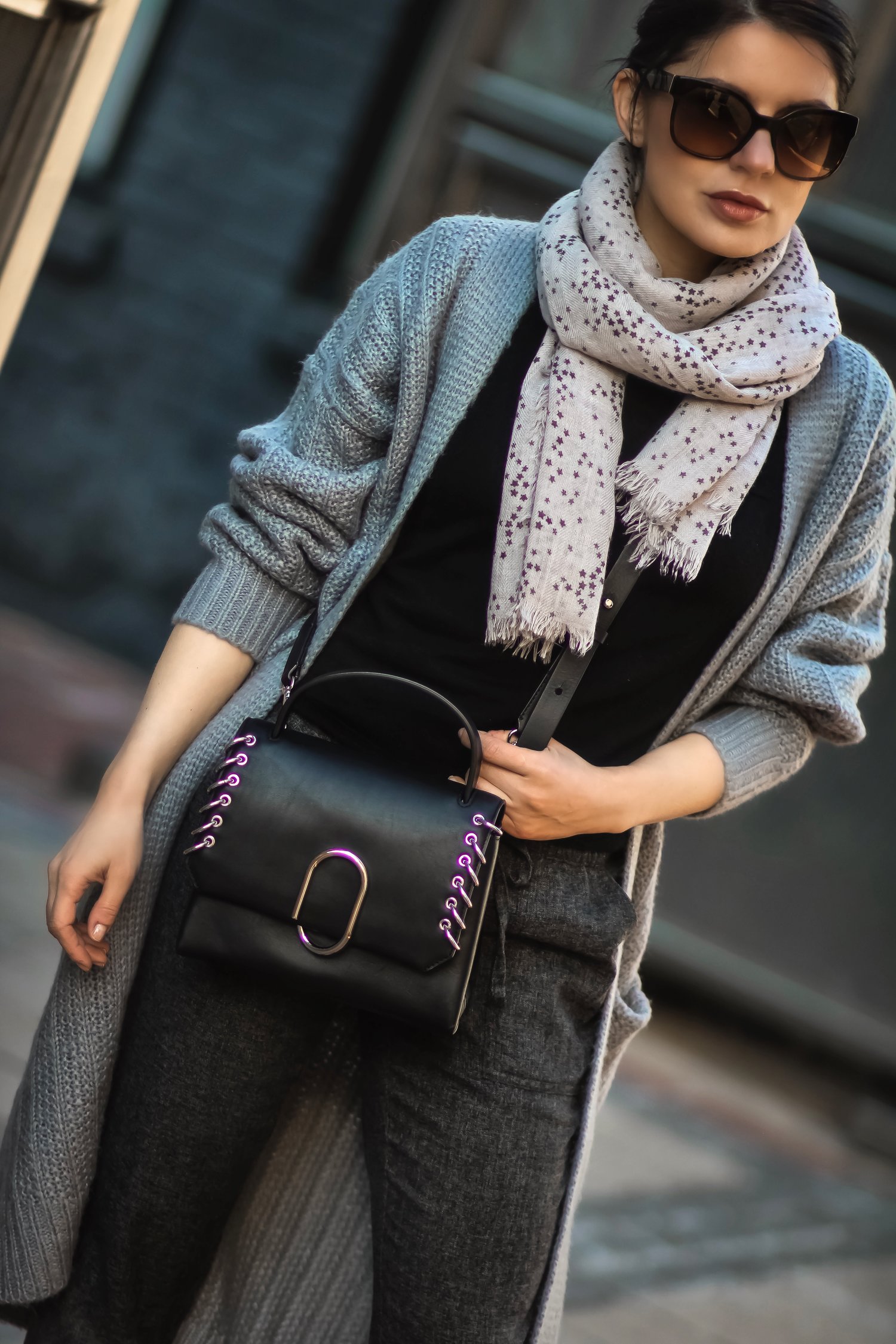 Before I started blogging I always admired Miranda Kerr's flawless airport attire. I'd like to think that nowadays I have developed a personal style of my own that is chic and individualized enough to create my own version of a great travel outfit. So, in today's post, I'll share a few tips on how to transform an airport outfit into a runway-worthy one with a few quick adjustments, such as changing the top and accessorizing the right way.
Below I am sharing two looks: the first is the AIRPORT or TRAVEL LOOK and the second is the RUNWAY-WORTHY LOOK or the look that I like to call the work or play look because it is pretty versatile.
So, let's analyze both.
The Airport or Travel Look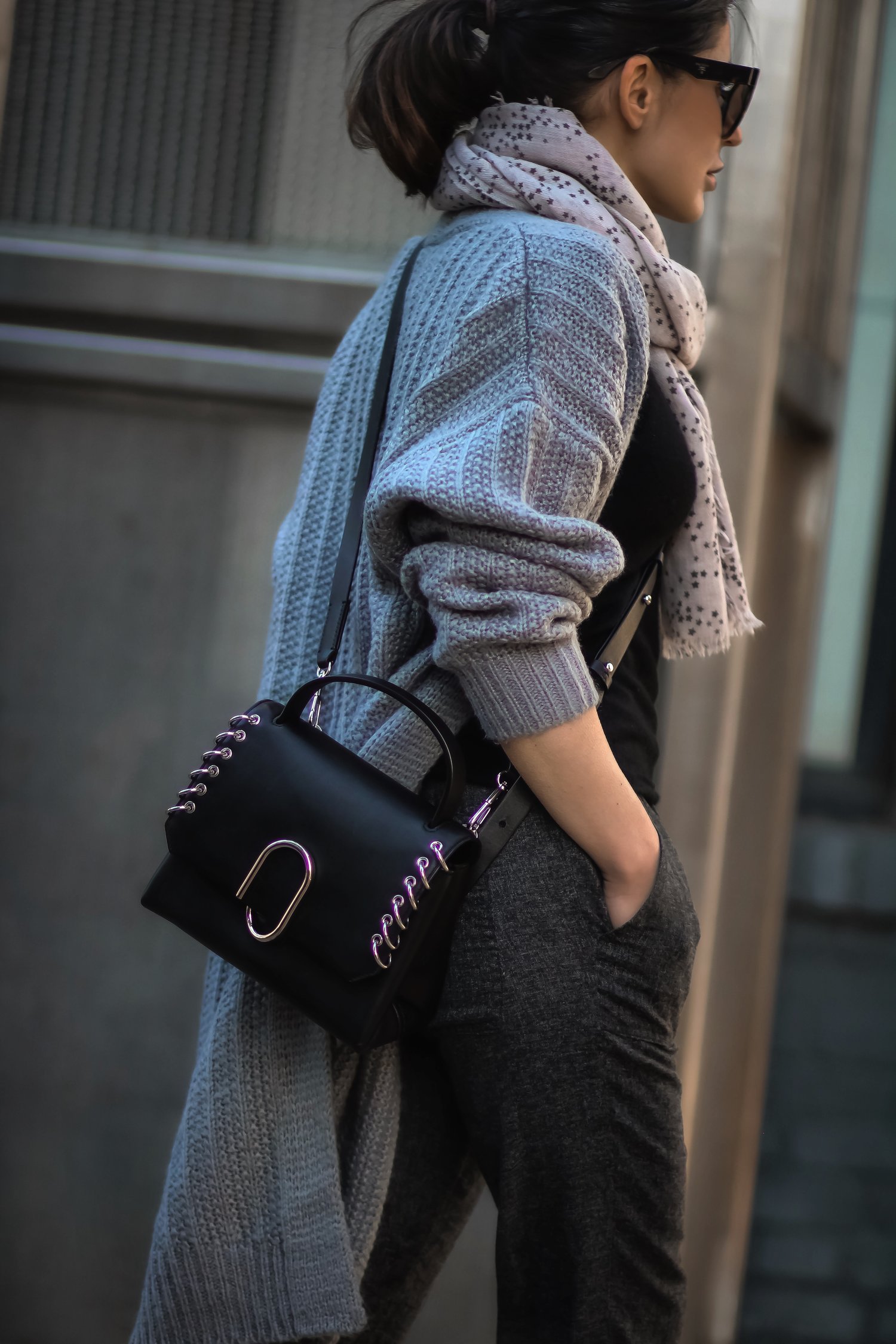 Note that besides the bag, I am wearing no jewelry. That's intentional because as you know, you have to remove all metal objects when you go through the security check at the airport. But you still need to put your bag through the scanner, so, why not carry a statement bag that can be the highlight of your outfit?
Also just because you can't wear jewelry, doesn't mean you can't accessorize at all. That's what scarves are for ! And those are pretty handy in the plane as well since the air is so dry. I tend to pack a light one and wrap it around my neck. It makes me feel so much cozier while it adds some instant flair. Or I pack a cashmere turtleneck or simple top. Cashmere tees or sweaters are great for travel as they keep your body temperature at optimal levels, so, you don't sweat, but you also don't get too hot or too cold, and that will make your flight a comfortable one (we all know how dry it feels during the flight due to the constant Air Conditioning)
The overall look comprises of a light tweed jogger pants (that are comfy yet look sharp and polished), a simple black cashmere t-shirt, a light grey scarf and a grey long knit cardigan. The only statement piece that has metal accents is the Phillip Lim bag that I recently got from my lovely boyfriend and is currently one of my favorites :-).
The Runway-Worthy Look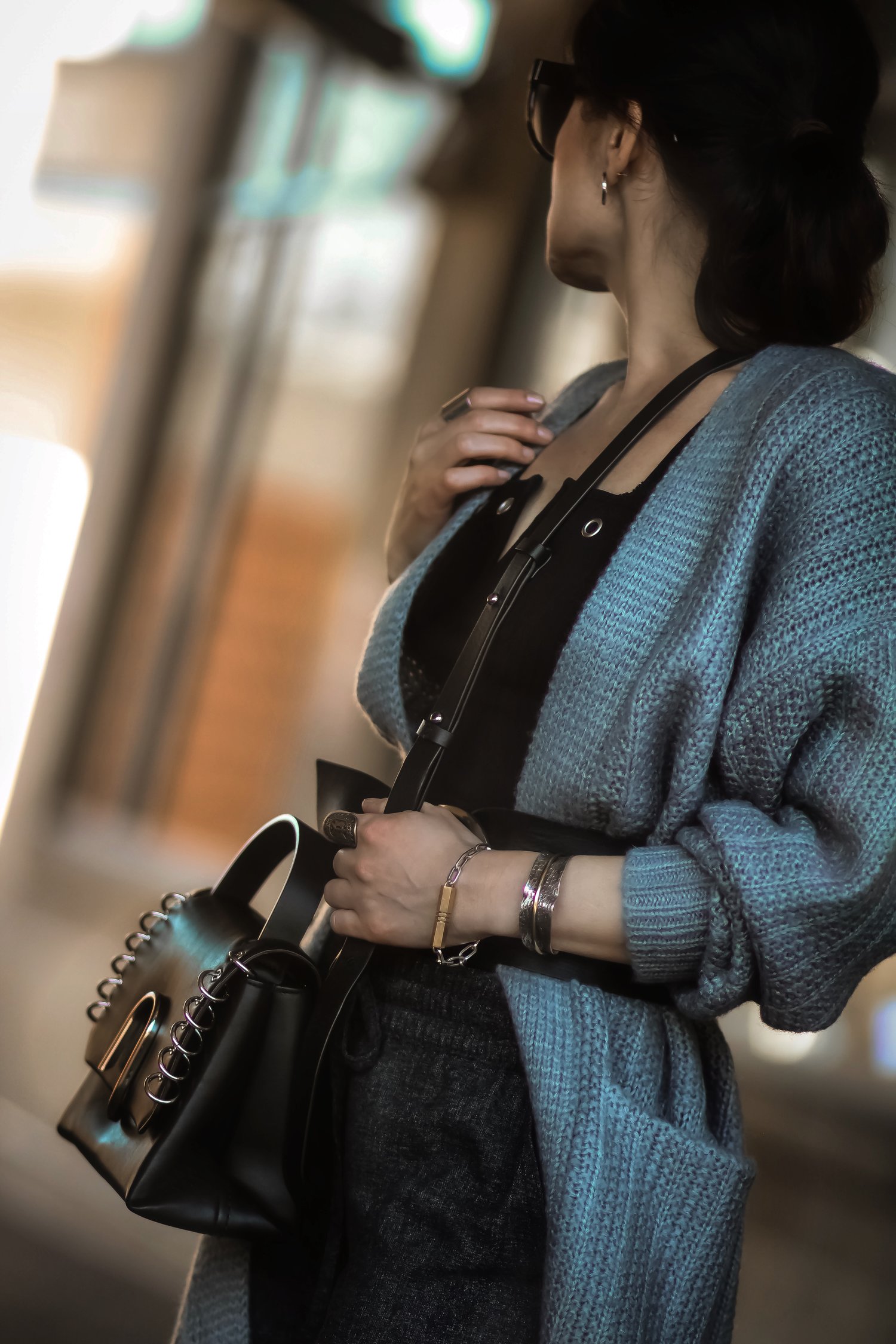 This look is identical to the first one with the exception of the top, jewelry, and the belt, that is optional and it depends on your preference and style, frame and comfort. However, if you inspect it, the changes are remarkable and the outfit looks very polished and you can definitely take this look to an event, date, girls-night-out, and pretty much to anything you have in mind with very few exceptions (maybe not a wedding, a formal gala, black tie event and other things alike ). As they say: it is all in the details :-).
So what are these details ?? For starters, I changed into a different top that has the little metal accents. The grommets add some polish and fun.
I then added the round earrings to match the same circle theme and some very unique bracelets. Unique jewelry or signature jewelry is a great way to add some character to an outfit.
The bag and shoes stayed the same (here we were practical from the very start to keep our luggage light :-))
I added the belt and you can see the outfit with the belt on and off (and it all depends on how you are more comfortable and also on your body shape). I like to outline my waist since I have a small one. Also, it was a little chilly outside, so, it felt cozy to belt it, but later I removed it when I sat enjoyed a quiet dinner out dinner out. So, it is really your call. It looks very posh either way, in my opinion.
The pants held very well thought the travel and stayed wrinkle free while also felt very comfortable.
As an endnote and speaking of unique jewelry, one of the bracelets I am wearing with a gold hexagon is a very unique piece, crafted out of solid sterling silver in London by a very talented new designer Jasmine Law. Her work is very distinct and out of the box. She has a keen eye for futuristic shapes and elegant balance. Explore her work HERE and also check her Instagram feed for a little minimalistic inspiration.
SHOP MY POST
Revolve Mercy gray knit cardigan (on sale & under $65 now!)
Tony Bianco Malo boots (SOLD OUT); very similar option from the same brand with transparent heel HERE
Jasmine Law sterling silver hexagon strip bracelet
Thank you so much for stopping by. I hope you enjoyed this post and if you did, feel free to SHARE IT. You can also find me on INSTAGRAM where I post daily outfits, style tips, and some of the things that I like or enjoy in my day-to-day life :-)
I am also on now on MEDIUM and BLOGLOVIN so, come say hi there as well :-)).
SUBSCRIBE HERE if you would like to receive a weekly cheeky hello in your inbox from me whenever a new blog post is up. You can also chat me up and let me know what fashion issues keep you up at night :-)
And if you missed my latest posts, you can read them here:
XX :-)
Isabel