Three Ways to Wear LOFT's White Denim This Spring | A Quick Style Guide to a Chic Work, Brunch and Business Casual Outfit
The well-awaited spring season is here and so is the scary topic of white pants. Should we or shouldn't we? And if we should, then how should we wear them in good taste? Well, lucky for you, my ladies, today's blog post is just about that. In today's post, I will show you three ways to wear white denim this spring so that you can look your very best for work, brunch and an occasion requiring a business casual attire (that you can also use for play, depending on your lifestyle).
So let's get started.
LOOK 1: HOW TO WEAR WHITE DENIM FOR WORK
I would like you to note that all three looks have the same foundation: a white pair of denim and a tan cashmere top with nude suede heels. What changes from look to look are the accessories and jackets or coats.
STYLE TIPS:
To achieve this look add a light scarf around your neck. I opted for a pale pink to add a little freshness to my entire look.
Add a white light spring coat, preferably with some texture. You can also go with a thicker longline cardigan if you prefer.
Add oversized yet simple jewelry. Mine happens to match the oversized chain on my bag ( yours doesn't have to :-))
Add a white bag.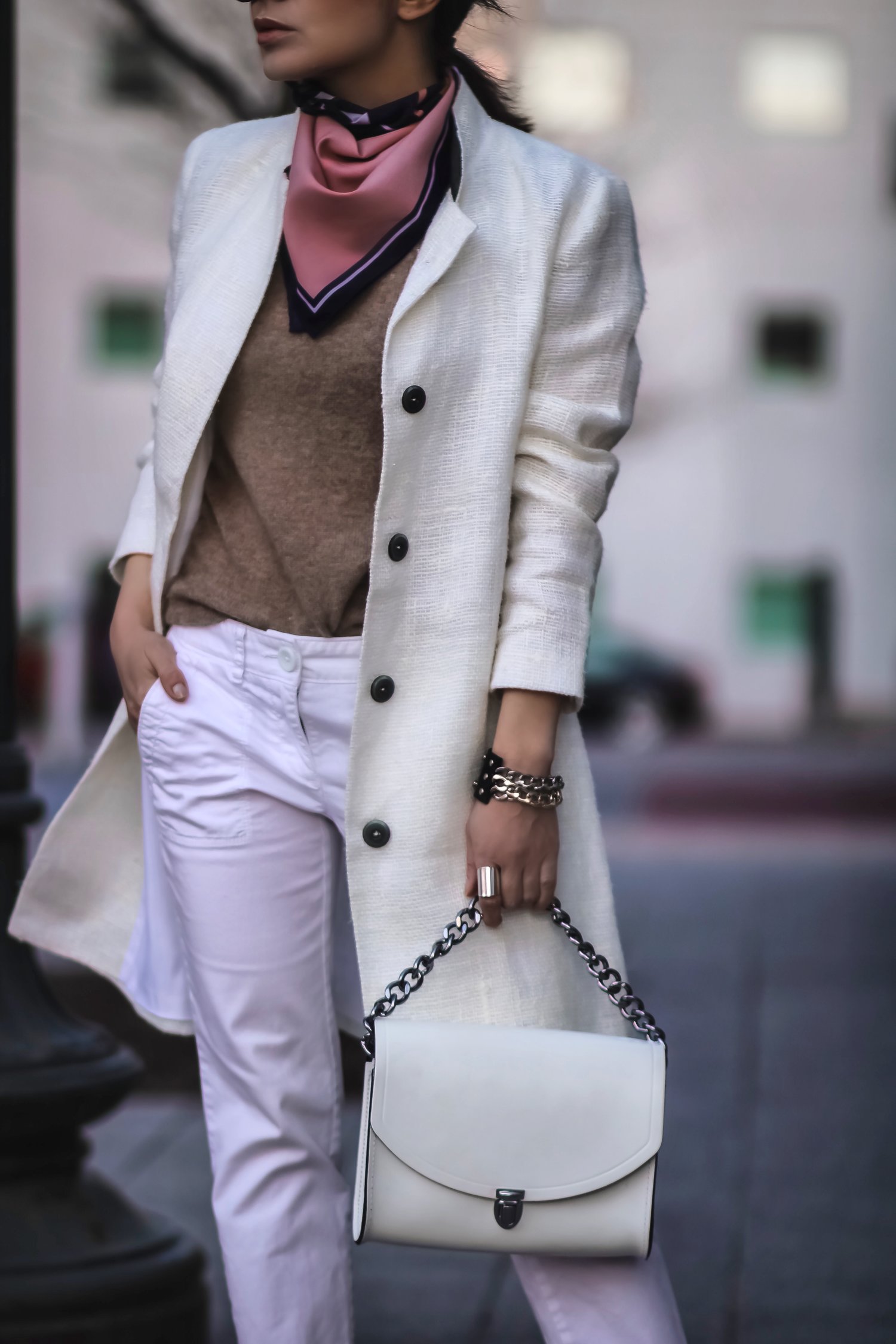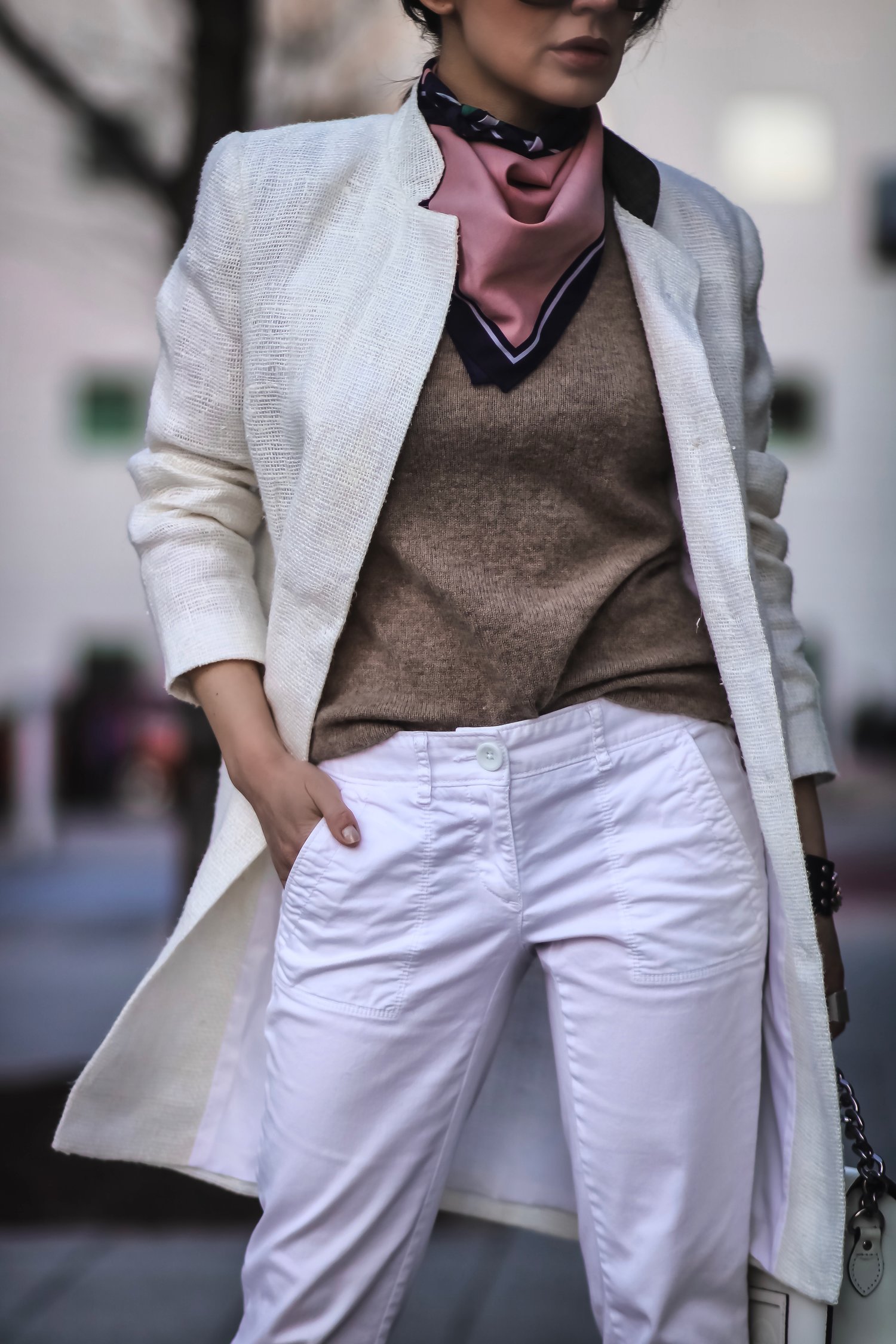 LOOK 2: HOW TO WEAR WHITE DENIM FOR BRUNCH
As mentioned earlier, the base stays the same white denim and cashmere top. The jacket and accessories change as stated below.
STYLE TIPS:
Tie a silk scarf around the nape of your hair. If you have been following the runway trends from the latest shows, the Old Hollywood glam is back. The largest fashion houses have set the tone when they brought back the "movie star look" with the head scarfs. So get creative with scarfs: tie them around your ponytails or buns if you don't want to go full glam, but ad a scarf :-)
Add a little color to your outfit with your utility jacket. The deep cherry color is so sultry. I also like the practical shape. And paired with the white denim, the result is a very fresh look, perfect for brunch, in my humble opinion.
Add some statement jewelry. Go big or go home. I am obsessed with curb chain details lately. You find what makes you tick this season and go crazy with it ... well maybe a little crazy, not too much :-)
Add those oversized shades, ladies. You are all set. You are a movie star :-)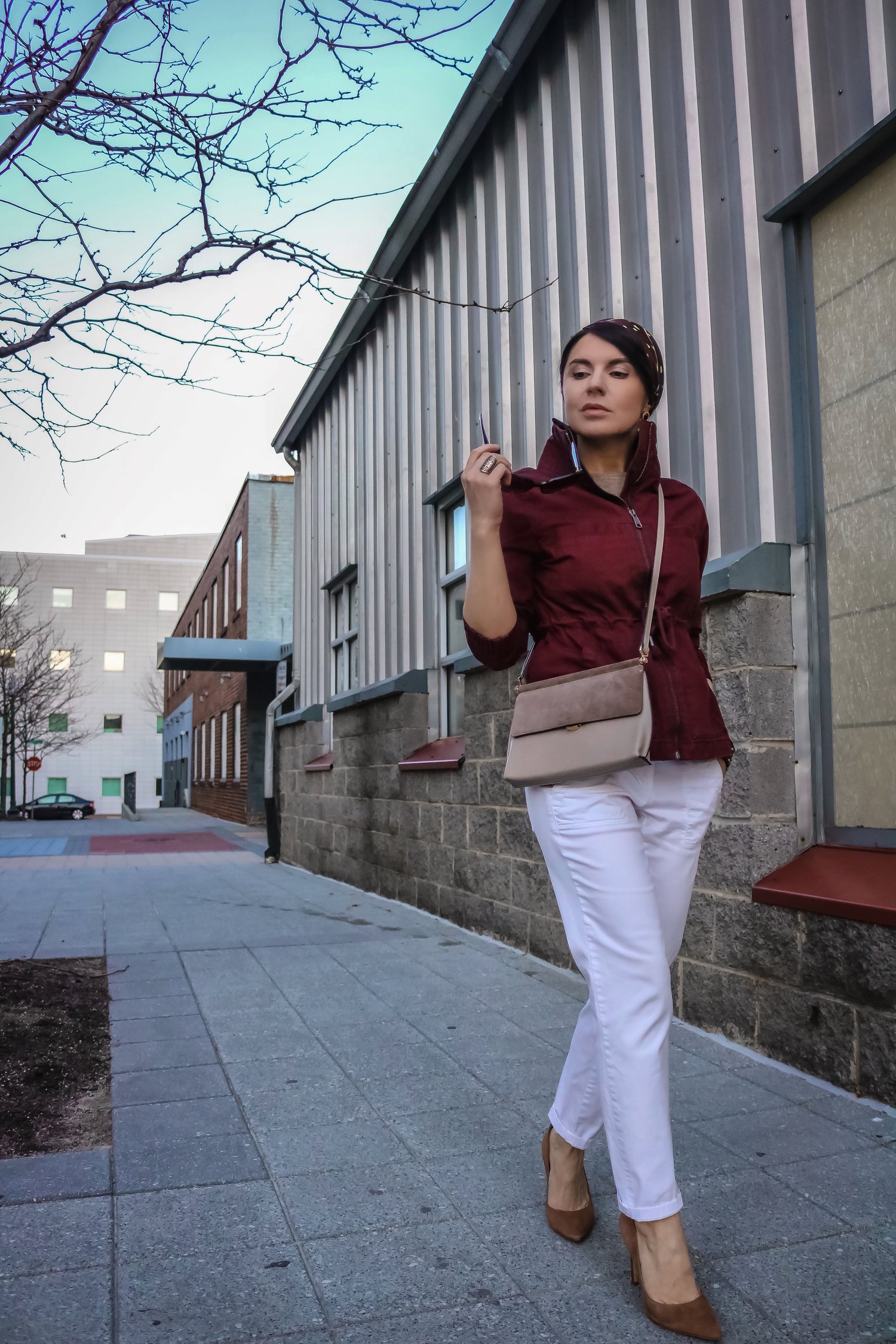 LOOK 3: HOW TO WEAR WHITE DENIM FOR A BUSINESS CASUAL/PLAY OCCASION
For this last look, a moto jacket was in order over the same white denim-tan-cashmere top combo.
STYLE TIPS:
Add a suede or faux suede moto jacket.
Add a tan suede crossbody bag. If that is not an option, you can stay with a black one but look to add texture, so maybe pick one that is made of black suede or has more metal accents so that it will pop out and add more polish to the look.
Add a linen neutral scarf. A tan or light grey one will work great. Mine has little star prints and I find it to be a great accessory for Spring.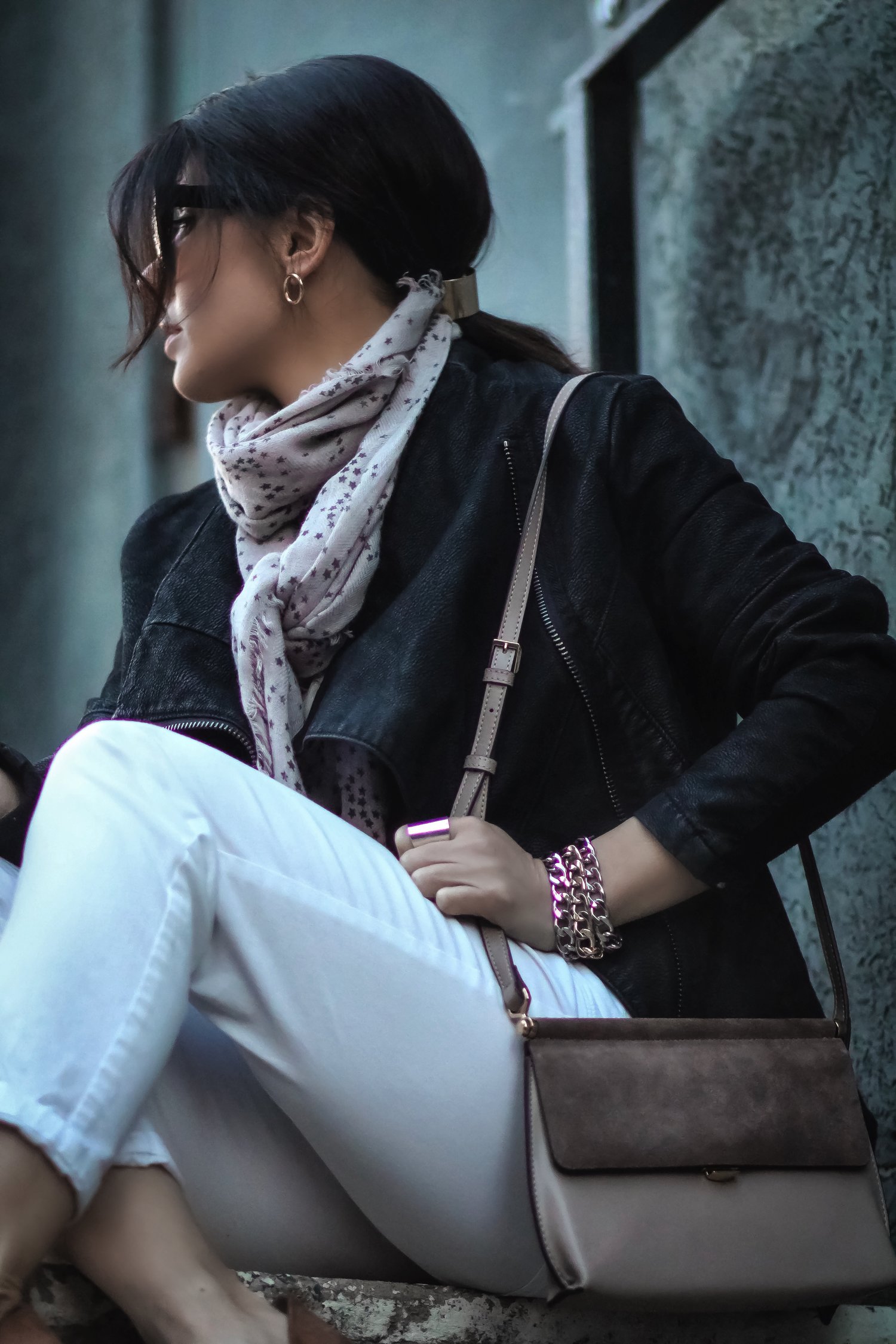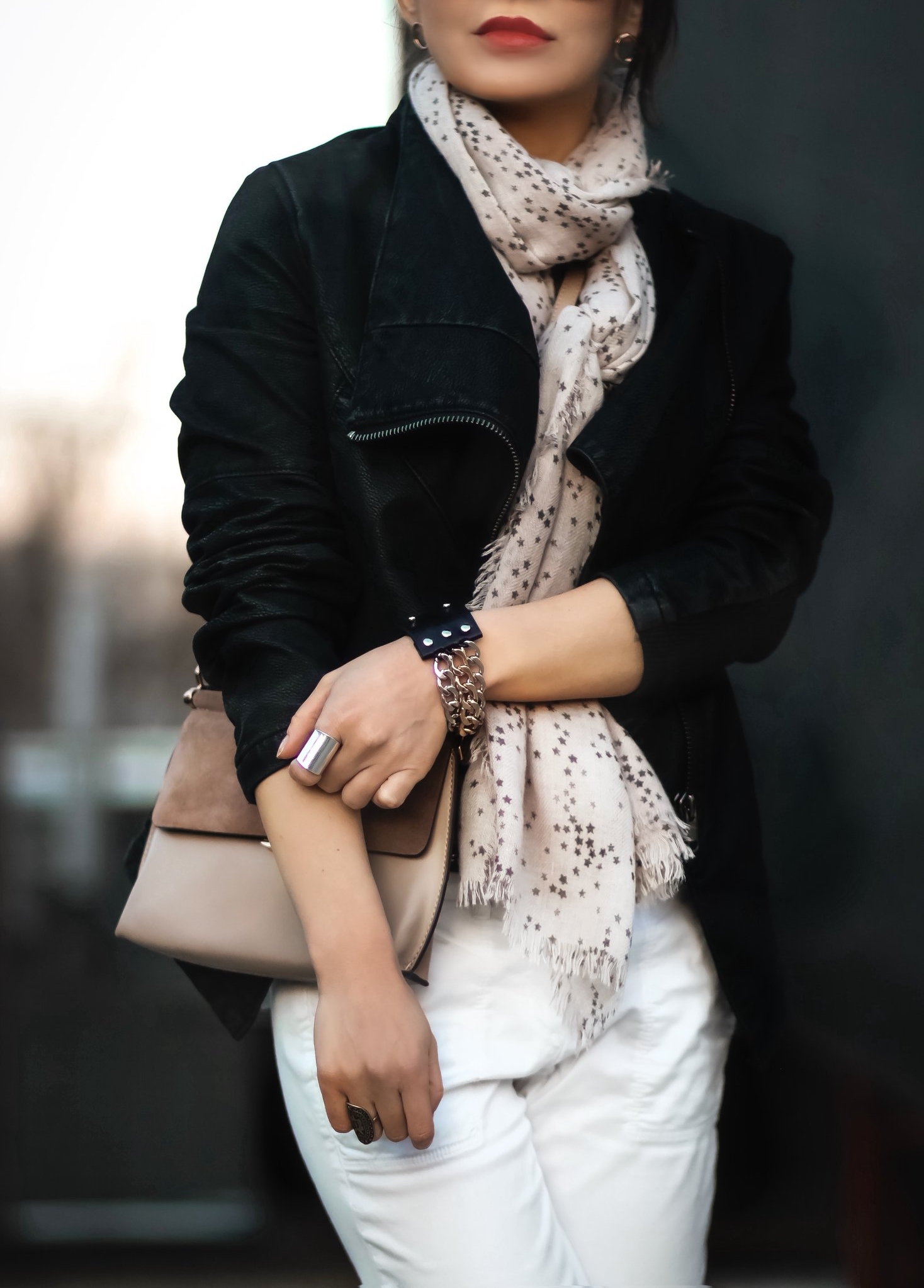 SHOP MY POST:
Thank you so much for stopping by. I hope you enjoyed this post and if you did, feel free to SHARE IT. You can also find me on INSTAGRAM where I post daily outfits, style tips, and some of the things that I like or enjoy in my day-to-day life :-)
I am also on now on MEDIUM and BLOGLOVIN, so, come say hi there as well :-)).
SUBSCRIBE HERE if you would like to receive a weekly cheeky hello in your inbox from me whenever a new blog post is up. You can also chat me up and let me know what fashion issues keep you up at night :-)
And if you missed my latest posts, you can read them here:
And that, my fair ladies, concludes, today's blog post. I hope you enjoyed it and if you did, let me know below in the COMMENTS section. I'd love to know what tips for styling white denim you have in your fashion arsenal :-)
XX
Isabel