How to Wear a Trench Coat in More than Five Ways | Meet Clothia's Convertible Trench Coat that Can be Worn as a Trench, Jacket, Reversible Vest and a Skirt that You Can Mix and Match in Infinite Ways
Well, hey there! The trench coat season is finally here and with it, the fiercest hunt for the best and chicest trench coats. Can't relate just yet? Just give it a few days .... or a few rains... or who knows.... it may very well be that by the time you finish reading this post you will be experiencing some major 'trench coat envy' :-). And I would not blame you because today, I will share with you, one of my most exquisite finds to this date: a trench coat from Clothia that can be worn in more than five ways, in fact, in many many ways if you allow your creativity to run free.
As I have mentioned many times before, the reason why this trench coat is such an interesting piece is because it scores 10 out of 10 on the VERSATILITY scale. This trench coat is not only beautifully designed but also very well constructed technically and workmanship wise. And what I mean by that is that the fit is great, the fabric is qualitative, the cut and feel is superb, the pieces that come apart and interlock (such as the removable belt, sleeves, skirt etc) fit perfectly and the zippers glide flawlessly. It is very obvious that a lot of thought process was put into the construction of this trench coat so that all the pieces would fit and break apart perfectly but also look very chic individually. That was successfully executed.
Below, I will demonstrate just a few of the obvious ways you can wear this trench coat but feel free to check my daily Instagram posts because I will be styling this trench coat as a trench, jacket, reversible vest and skirt, and in many other ways, after this blog post, because combinations are limitless.
THE TRENCH COAT
The trench coat can be worn open or closed. Closed it gives a very chic military style, slightly badass on a small frame like mine. I felt very fierce and polished (maybe even felt for a split second like secretly stylish samurai :-).) Open it looks very good too.
Styling suggestions:
wear it with (coated) black denim for a an extra polished look, like I did with pointy toe boots or open toe boots since it is getting a little warmer; or
wear it with a leather skirt (try it even with a vinyl one since they are very much in this season), with studded ankle boots, sock ankle boots, or sock high thigh boots.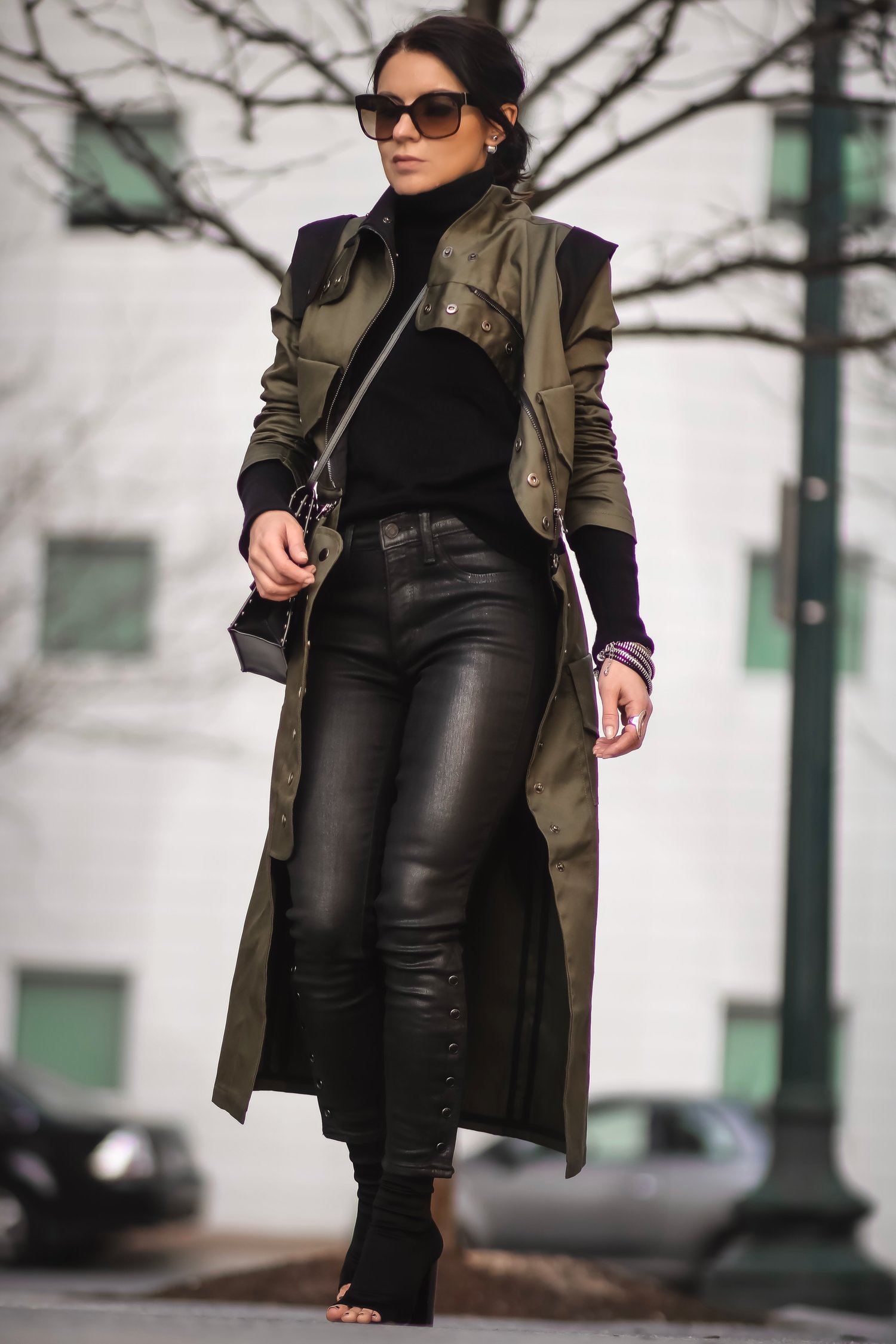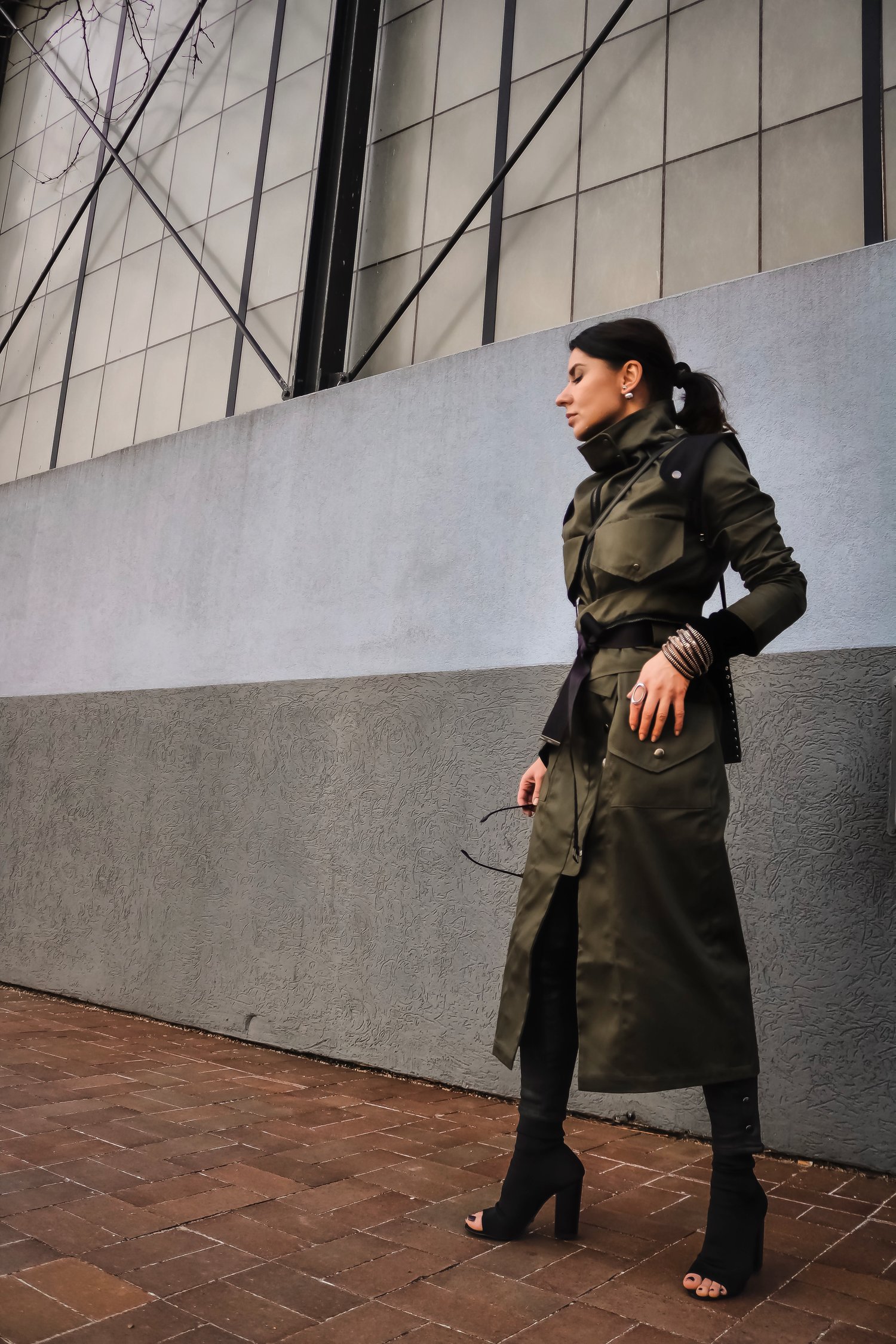 THE JACKET
The jacket is so cool. It gives an uber chic vibe to any outfit because of its intense olive color, the snaps and crop cut, the dark zippers... The details are impeccable and as you know, it is all in the details. I can't emphasize that enough. The sleeves are removable and you can turn this jacket into a vest. But that's next...
Styling suggestions:
wear it with skinny jeans; my favorite remains the skinny jean because I pack a small frame but the boot cut style is back and is equally elongating so long as you have lean thighs. So, keep that little trick in mind.
leather and denim minis can be successful partners for this jacket; I would go for a black one
don't hesitate to style this jacket with a bodycon dress and add some metallic accessories; this jacket will add a new dimension and twist to that little black dress you've been keeping in your closet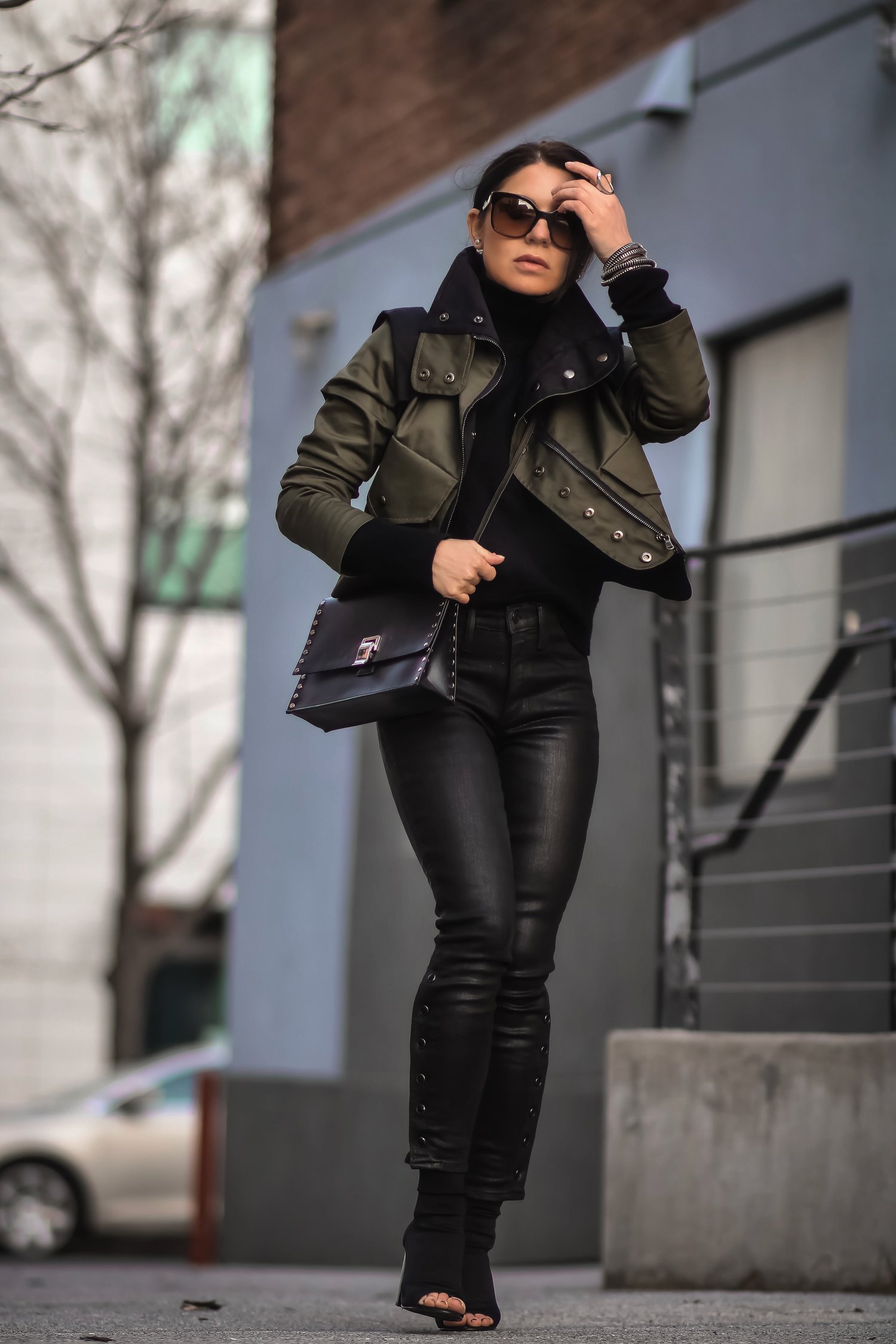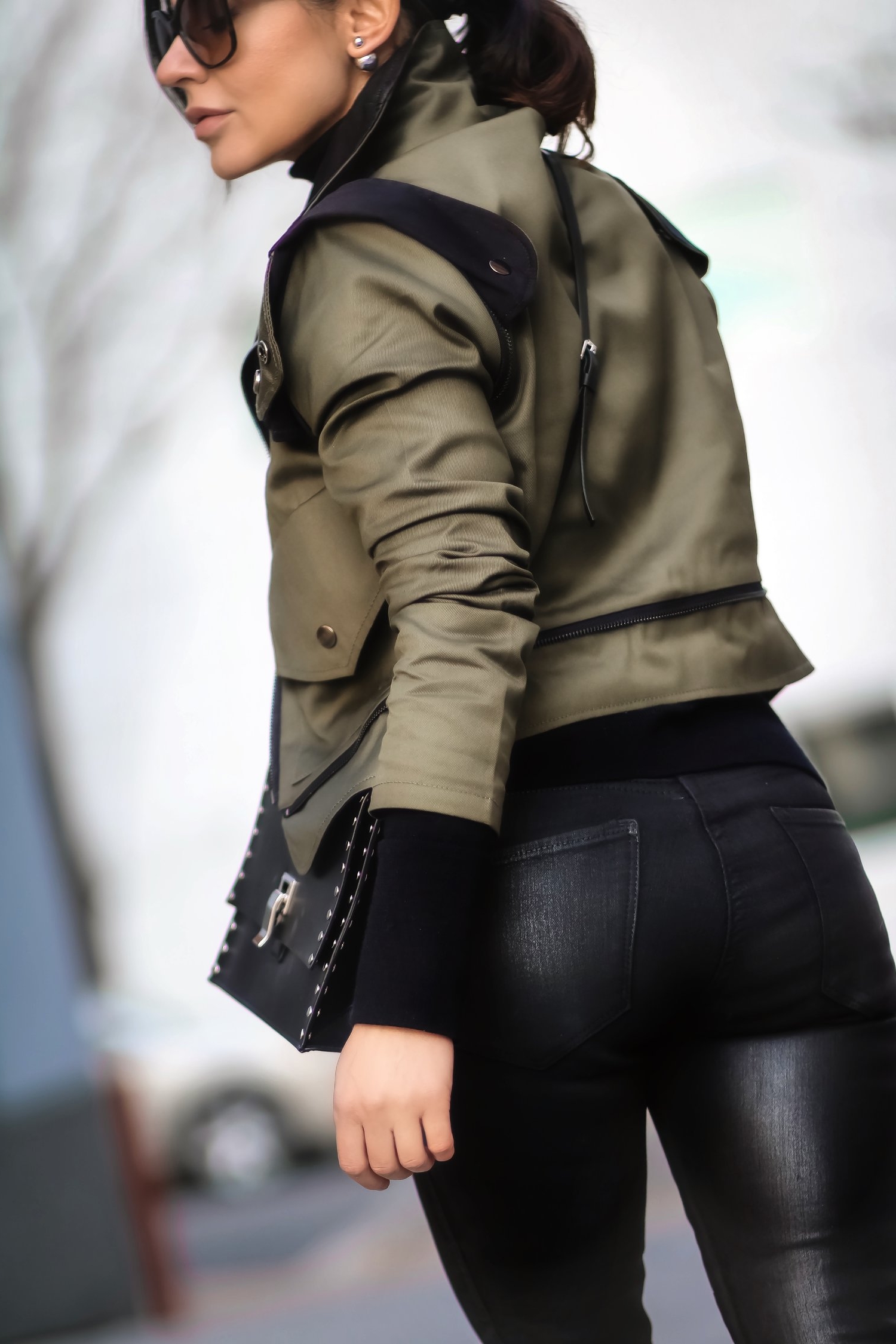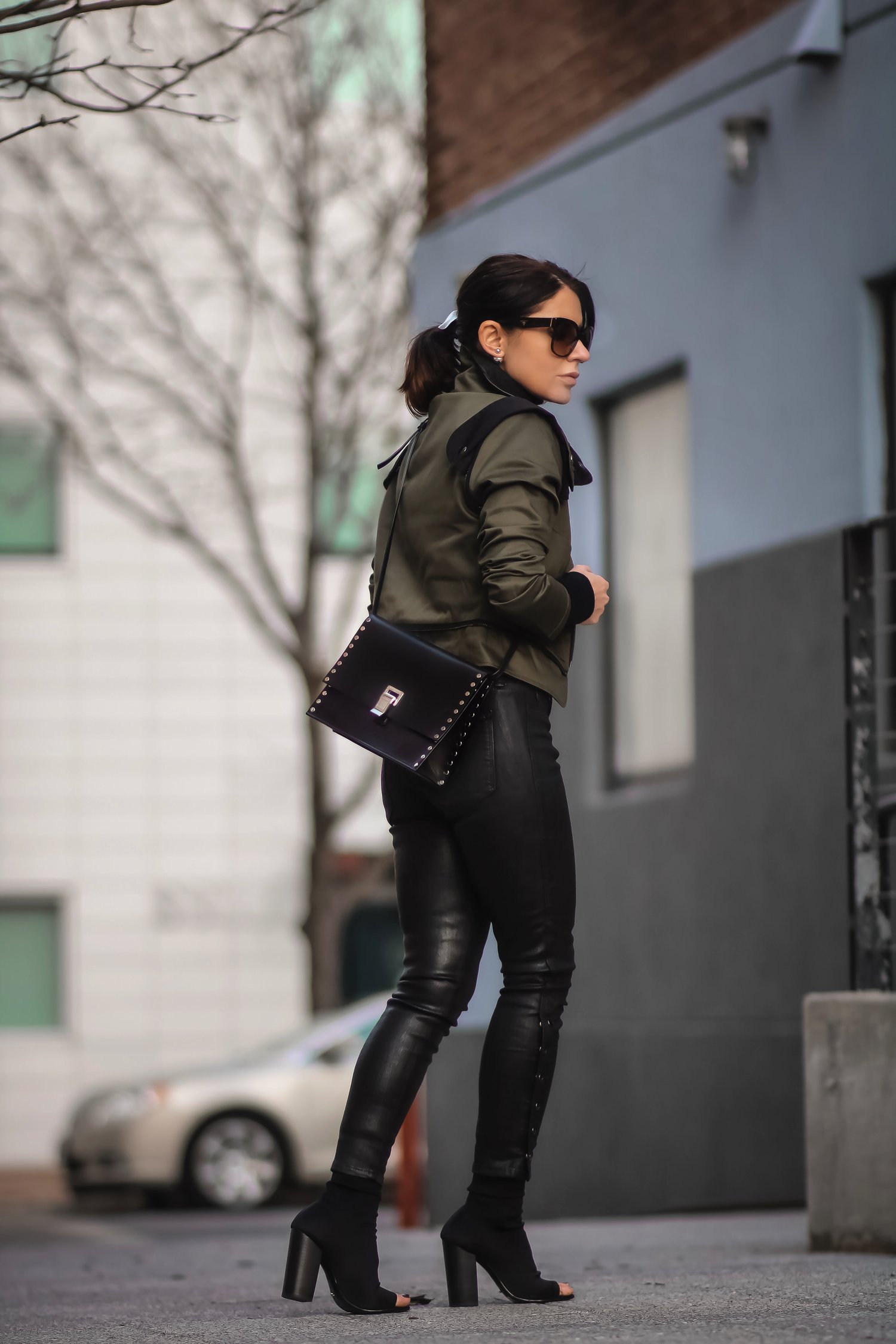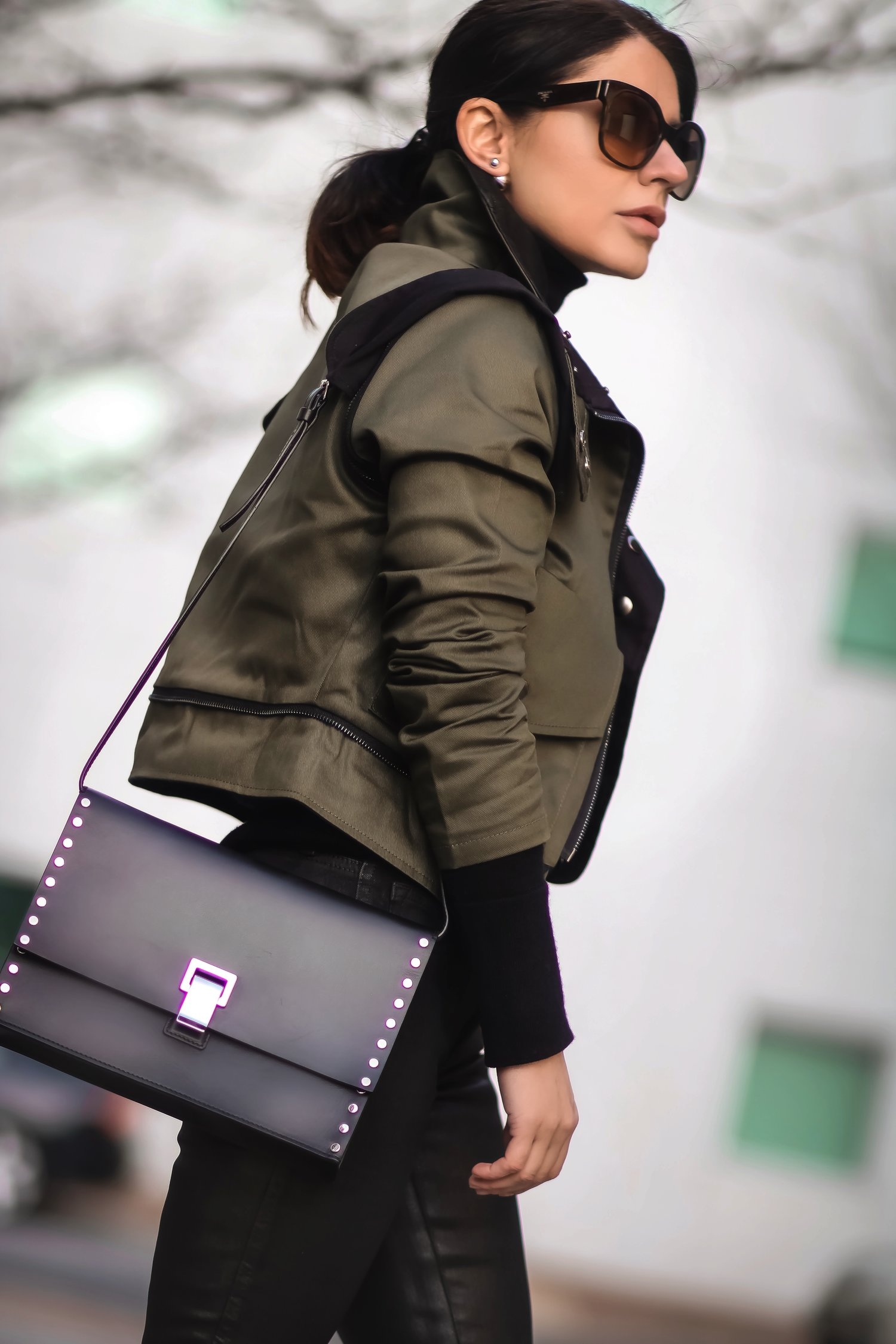 THE VEST
The vest is very sharp too and I chose to style it on the black side since I heavily featured the jacket on the olive side. As you can see, on the black side, it has some Russian insignia and the word 'RUSSIA' in Cyrillic (I guarantee the accurate translation thereof as a former citizen of the former USSR still fluent in Russian, among other 3 languages (I dare to find out which ones !! :-)) )
Love how the zippers look on the shoulders. These are the zippers after removing the sleeves but the overall design is so clever that it looks as if it was designed to be a vest, to begin with, with zippers at the hems. So so polished! Would love to meet the designer one day! :-)
Styling suggestions:
wear this vest with denim, sleek grey joggers for a cool athleisure look, with white denim (since summer is around the corner!) and go for pointy toe boots or shoes to make this look sharp; since this is a vest, it is already on the relaxed side, so, you want to add a contrasting styling element to make it super chic and out of the box
wear it with sports shoes as well, for a sporty girl-next-door look (I prefer the first approach though :-))
wear it with minis and the same approach to shoes ( for the reasons outlined above)
wear with edgy distressed shorts and boots; try a grey denim pair with a white top or a lace top for an evening look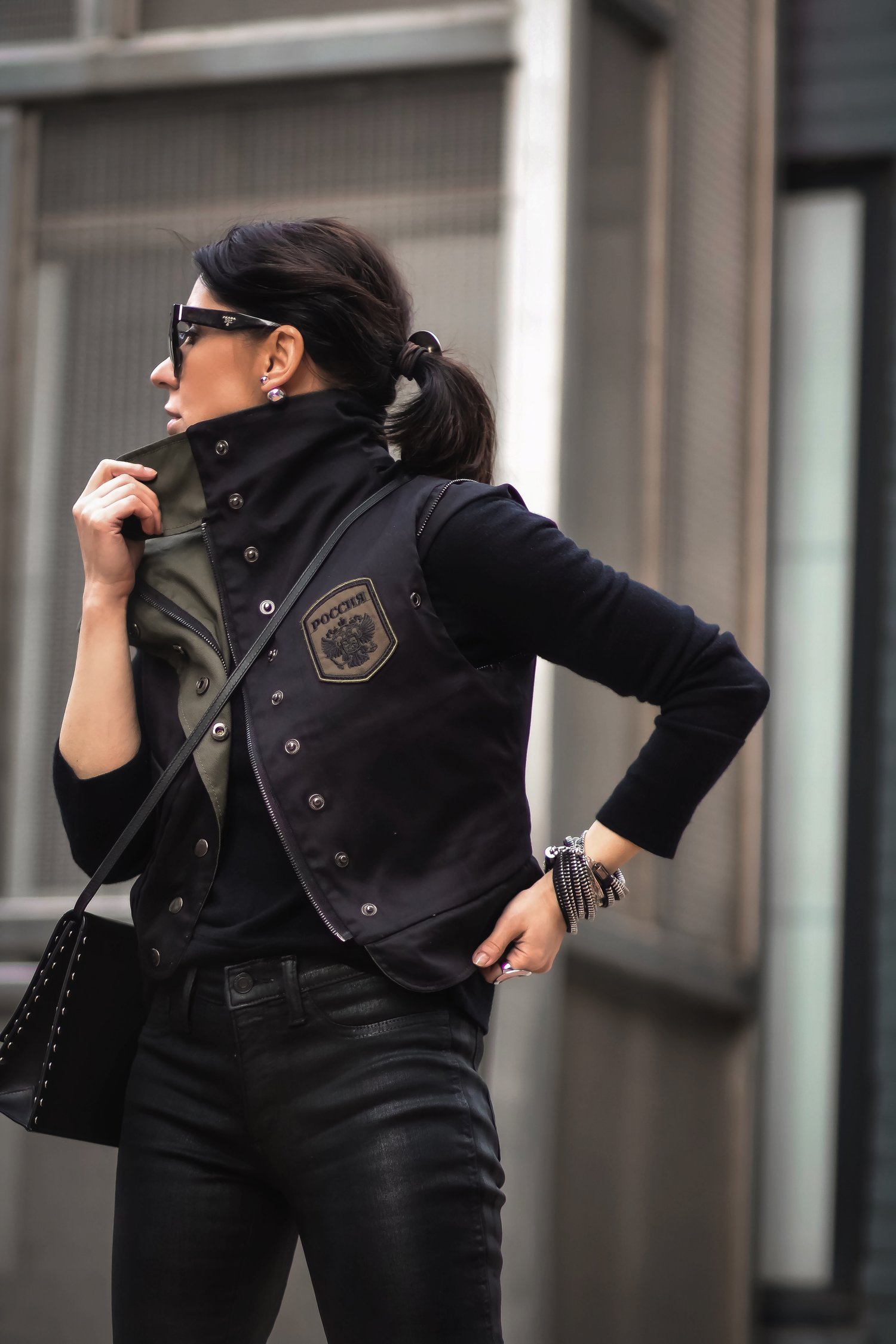 THE SKIRT
The skirt is great on its own. I loved styling it with fishnets but you can wear it with opaque tights (nude or black) and high thigh boots (I suggest the sock boots type or extra sleekness). I love the snaps. I styled it with a turtleneck since it was cooler but you can style it with tank top later on in summer too.
Styling suggestions:
wear it with fishnets and sock booties or high thigh boots
add a tank top for the day or a lace top for the night with studded one strap heels or peep toe sock booties ( like the ones I am featuring since they have plenty ventilation for summer; so important for pretty and healthy toes :-) !!)
you can also layer a tulle or a lace skirt underneath and leave the snaps open a little higher
you can wear short denim shorts and leave the skirt open extra high and wear thigh high boots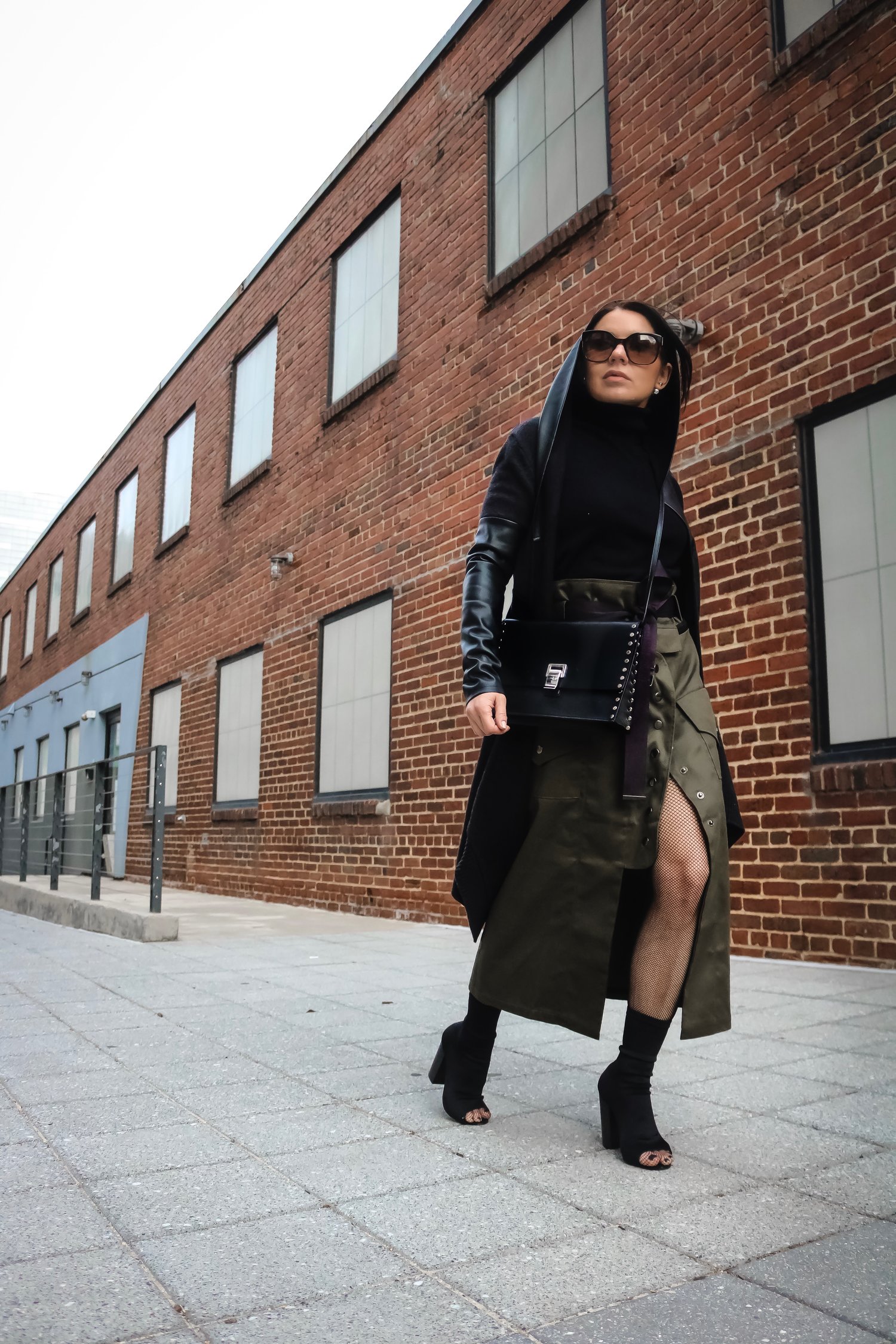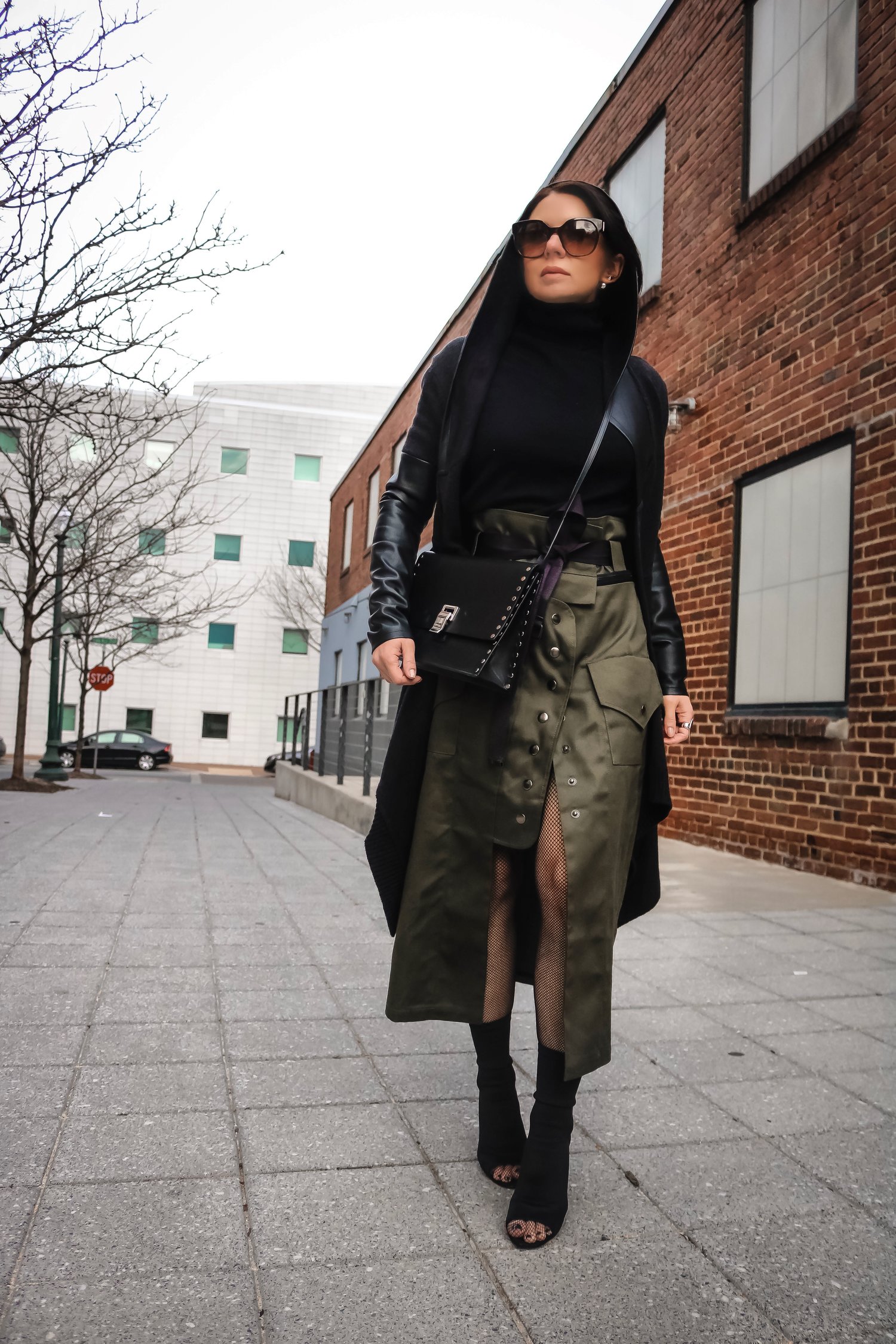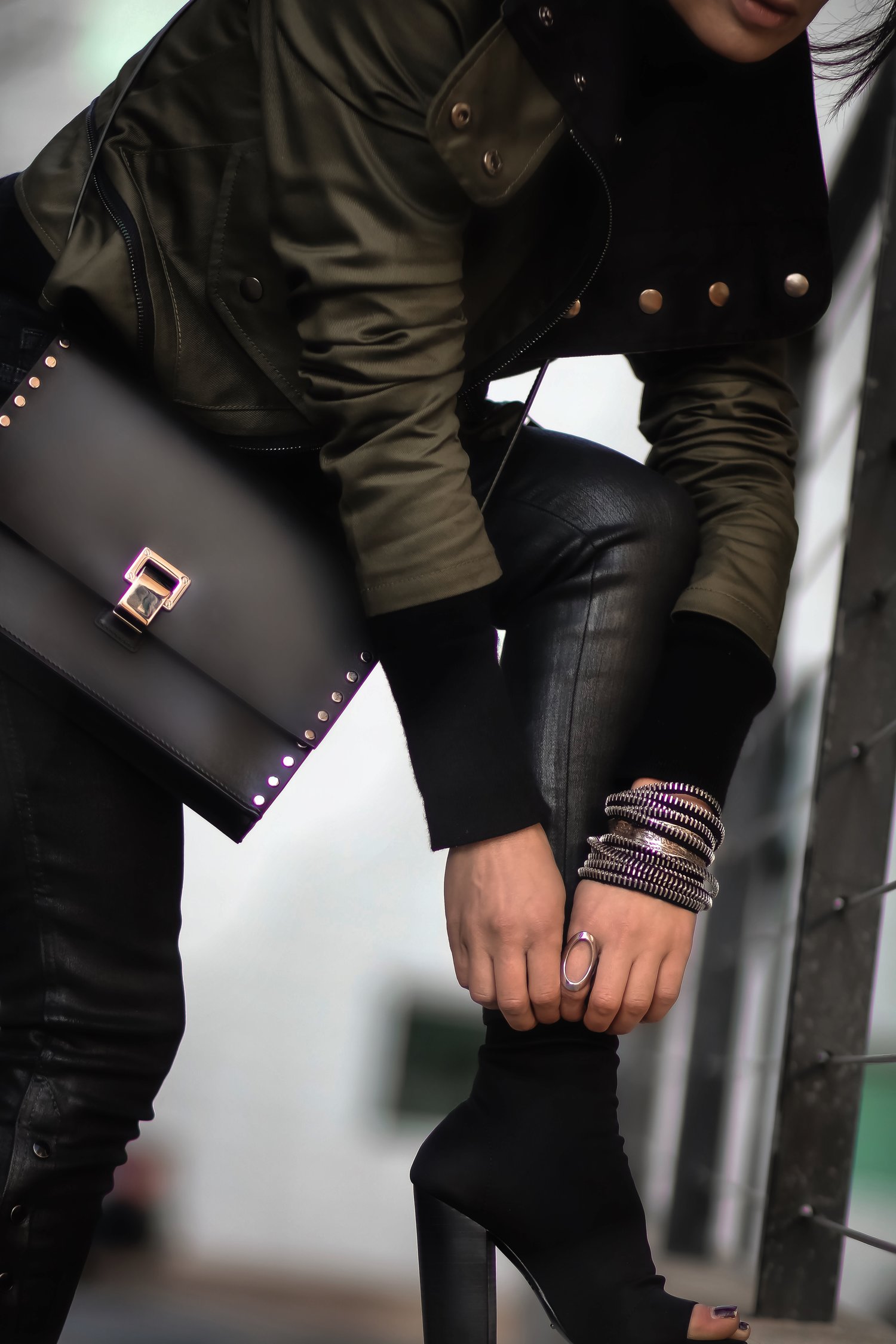 WEARING: Clothia convertible trench coat //GAP coated denim //H&M turtleneck (sold out); similar HERE and HERE (under $60) // Tony Bianco Malo boots (sold out; similar HERE in the same brand)//The Dark Shop bracelet //
My final verdict on this piece is that is definitely an investment-worthy piece, a collector's item to be styled and enjoyed for years to come. And as if quality, creativity, and versatility were not good enough qualities, the trench coat also comes with a pretty affordable price tag, given its versatility and multi-functionality (it currently retails for $325 ! )
Thank you so much for stopping by. I hope you enjoyed this post and if you did, feel free to SHARE IT. You can also find me on INSTAGRAM where I post daily outfits, style tips, and some of the things that I like or enjoy in my day-to-day life :-)
I am also on now on MEDIUM and BLOGLOVIN, so, come say hi there as well :-)).
SUBSCRIBE HERE if you would like to receive a weekly cheeky hello in your inbox from me whenever a new blog post is up. You can also chat me up and let me know what fashion issues keep you up at night :-)
And if you missed my latest posts, you can read them here:
XX :-)
Isabel