How to Rock Athleisure Like a Star | Three Ways to Wear American Eagle Joggers for Work, Play, and Travel
It is about time to show some respect to athleisure. Everybody has been talking about it, magazines have been opining about its rise and death, and bloggers have been quick to try their own interpretation when it comes to styling it.
So, what is athleisure exactly? Well, that's exactly what I will attempt to clarify for you in today's blog post. I will then show you how to style athleisure like a star and specifically, I will showcase three ways to wear American Eagle joggers for work, play and travel.
 
WHAT IS ATHLEISURE?
According to InStyle, athleisure is anything from designer leggings to cashmere sweats to fancy gym clothes that are "appropriate for either athletic or leisure pursuits, or both".
In a 2017 article Business Insider refers to athleisure as an "evolution", as opposed to a trend or fad, quoting the former head of menswear at J. CrewTodd Snyder. The article also references the work of Deirdre Clemente, a professor of history at the University of Nevada, Las Vegas whose research focus is on 20th-century American culture and the fashion industry. According to the professor, athleisure is a "weird hybrid" of business casual and athletic wear, which "has essentially created an entirely new category of clothing".
And finally, according to me :-), athleisure is anything sporty, mixed with other chic elements (clothing and accessories), preferably contrasting ones, both in style and texture, to render a visually and stylistically appealing result that is also functional and comfortable. To put it simply, athleisure, is essentially a combo of anything sporty and comfy mixed with some stylish and contrasting elements that elevate and polish a look.
HOW TO WEAR JOGGERS FOR WORK
For this look to make the joggers work for work (pan absolutely intended !) I wanted to keep the color palette monochromatic. I added my signature jewelry and a stylish matching bag and kept everything else simple. The key word for this look is polish, so, stay away from busy elements.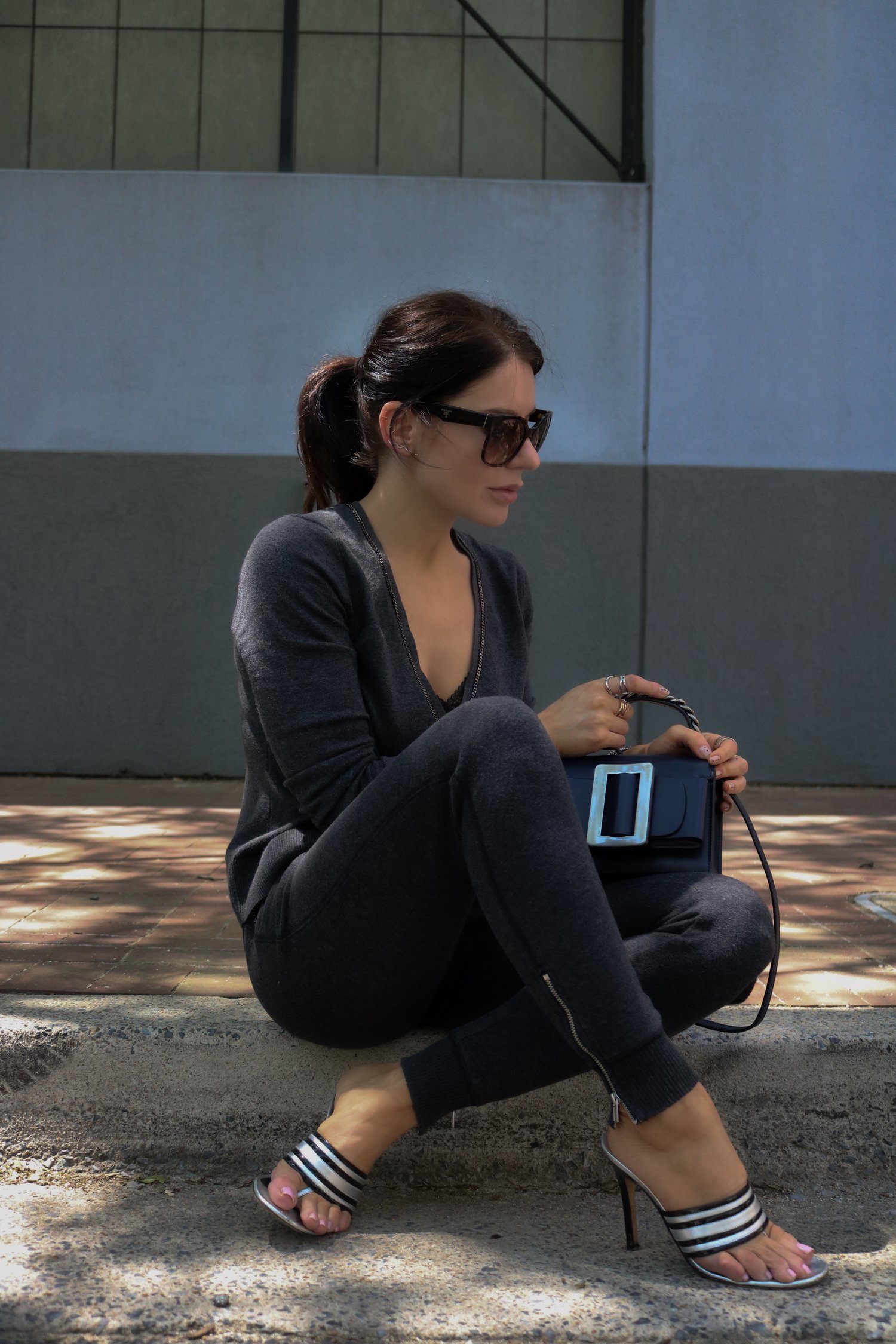 HOW TO WEAR THEM FOR WORK
STYLE TIPS:
Since the look is intended for work, pick your joggers and top in a 'business approved' color palette such as black, grey (dark or light) and or navy. Now that it is summer, you can also experiment with neutral color tones as they look very chic and polished.
Match your top and aim to convey the idea of an ensemble, like I did. In this look I simply paired an Old Navy cardigan that perfectly matched the joggers.
Keep your jewelry theme consistent. I love leather with delicate metal accents as it appeals to both my strong and soft side. The leather bracelets I am wearing are the perfect visual expression of this metaphor.
Add a polished bag. I picked a smaller one to match the color scheme but if you are taller, unlike me (I am petite and small framed) you can go with a larger one as well.
Feel free to add some personal touch. The chain details on the cardigan neckline and joggers' pockets were applied by myself to add a little fun and luxe vibe to the entire ensemble. The best part, the joggers were $25 and the cardigan was under $20 :-)
HOW TO WEAR JOGGERS FOR PLAY
For this look, the keyword is effortless and the defining element is the light scarf. The idea behind the look is to convey a relaxed, polished yet effortless style. This has a very French flair, very carefree, and can be worn from day to night because of the scarf.
HOW TO WEAR THEM FOR PLAY
STYLE TIPS:
Pick a lighter pair of joggers and pair them with some fun sandals. I went for silver ones to show off my freshly done pedicure :-). Plus I love these sandals as they are both comfy and flattering to my feet ( and elongating to my petite frame). In any case, I recommend some delicate and simple single straps heels to dress up the joggers and to create that powerful contrast.
Add a silk cami or cami with a very simple cut to keep things minimal but also because the focal point will be the scarf which will also cover your shoulders, so no need to go o for an embellished top.
Pick a light oversized scarf that is slightly transparent. Mine is white and has delicate geometric shapes which brings a little fun to the outfit, You can go for a very plain design, a more geometrical shape or a full monochrome one (a plain grey or white scarf). Wrap it around your shoulders and get as creative as you want. This is the time to have fun and this scarf will add just touch of femininity to this these sporty joggers to make them very refined.
Add some statement. signature jewelry.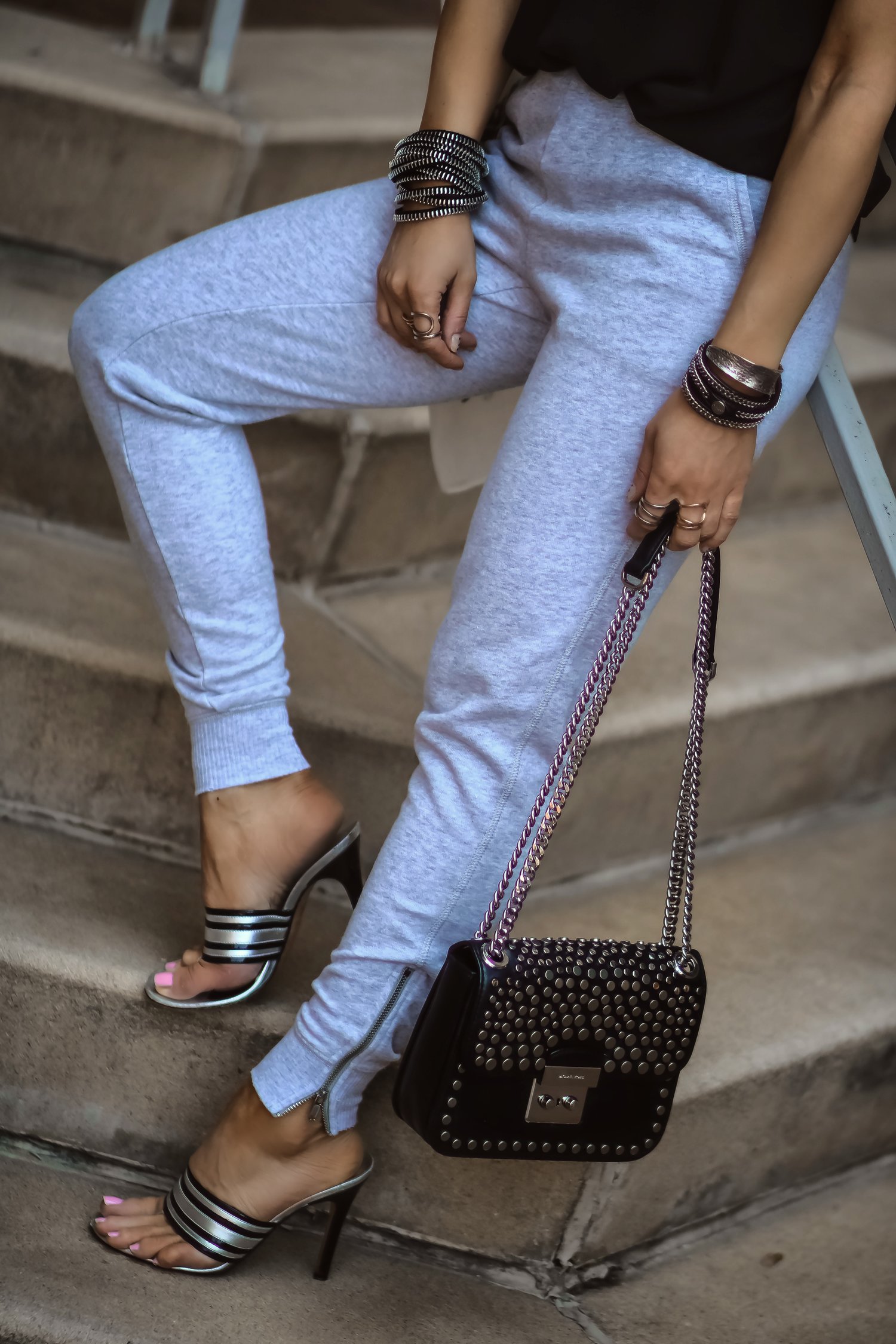 HOW TO WEAR JOGGERS FOR TRAVEL
For this look, the keywords are subtle elegance. Those are the defining factors of this look and what you should be aiming for in a ravel outfit. And that is because often people rely too much on comfort when they pick their travel outfits and demote the visual aspect to a far-far land. So, if you can manage to balance style and comfort in an outfit, you got yourself a star travel look.
So, what does it take to get there? Think layers and scarves. Because it is summer, we will do light layers and because I already styled a scarf in the previous look, I will not style as a scarf in this look. The previous look, however, may very well become a travel outfit as well if you replace the shoes with something more comfortable and opt for a long sleeve.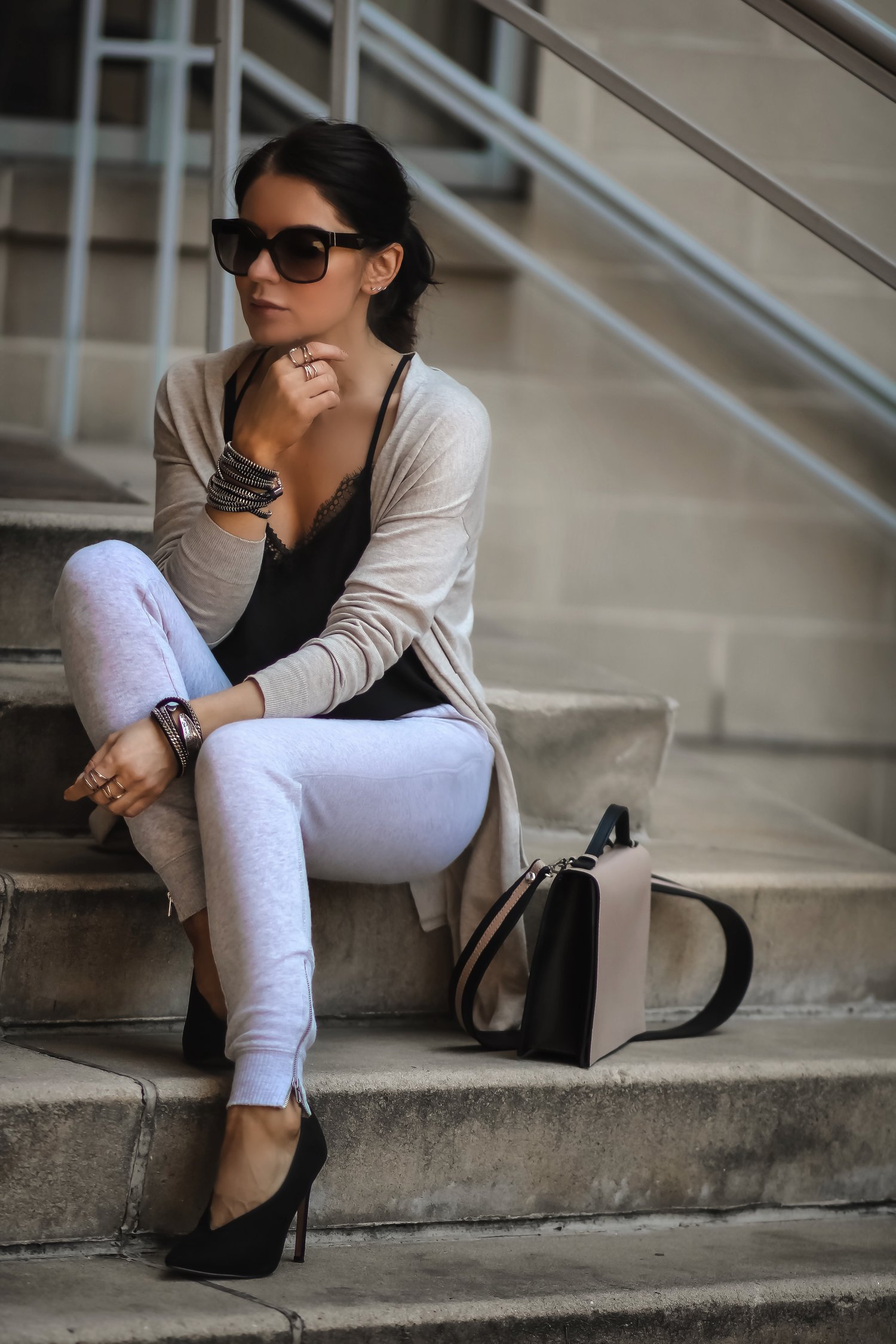 HOW TO WEAR THEM FOR TRAVEL
STYLE TIPS:
Pick a longline cardigan and throw it over your cami and joggers combo.
Pick a cashmere top if you can help. Cashmere will keep you warm when it is cold and cool when it is warm.
Do layers. Whether you travel by train, plane or bus, most of these places tend to be heavily conditioned and dry so, you want to be able to feel comfortable if your trip is longer. I prefer lighter and longer cardigans but also keep a light scarf that I also use to wrap around my shoulders if I need extra comfort.
Use a matching medium size bag where you keep your traveling essentials and documents. Remember, style is a lifestyle. It don't turn it off and on.
Adorn with your favorite/signature jewelry.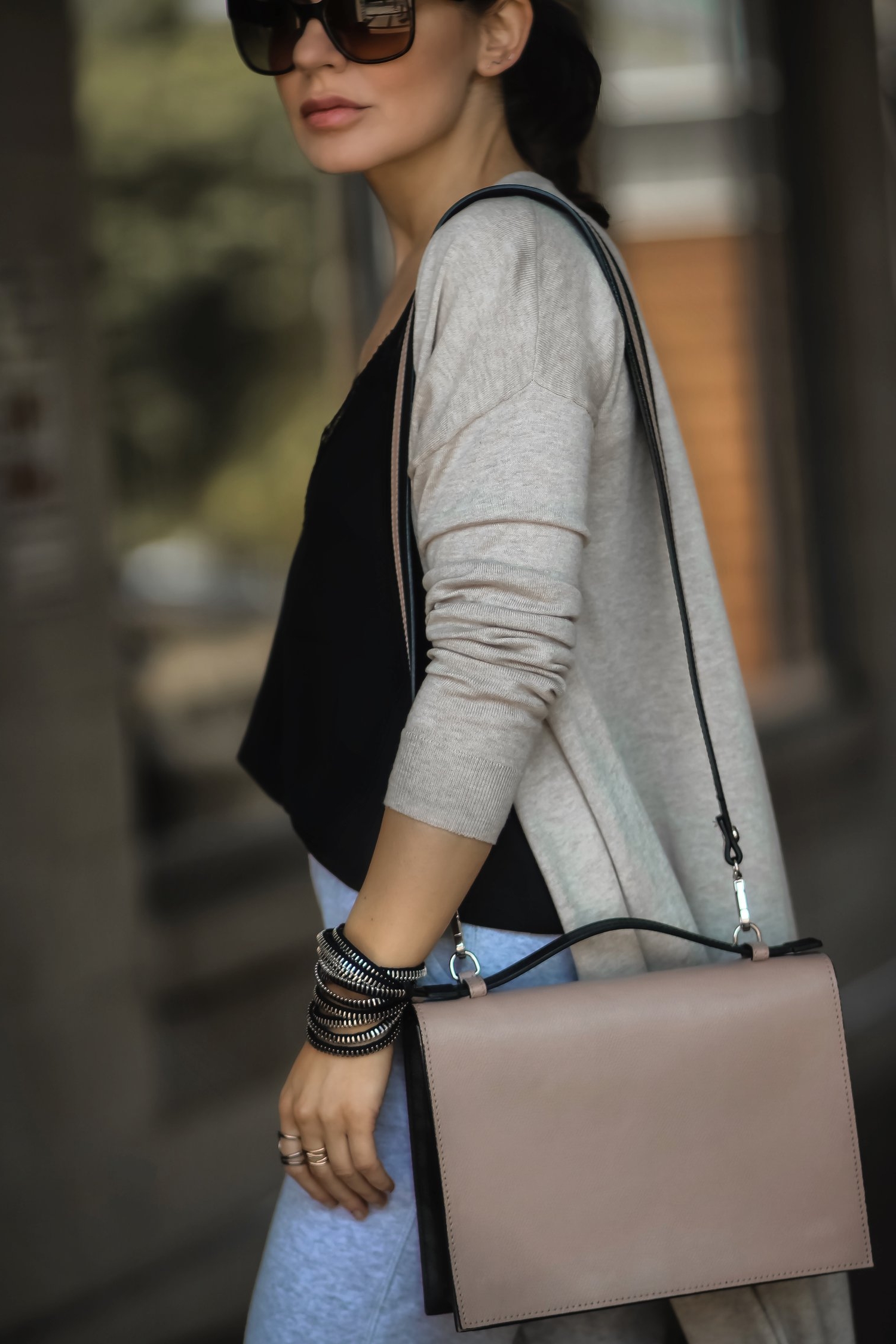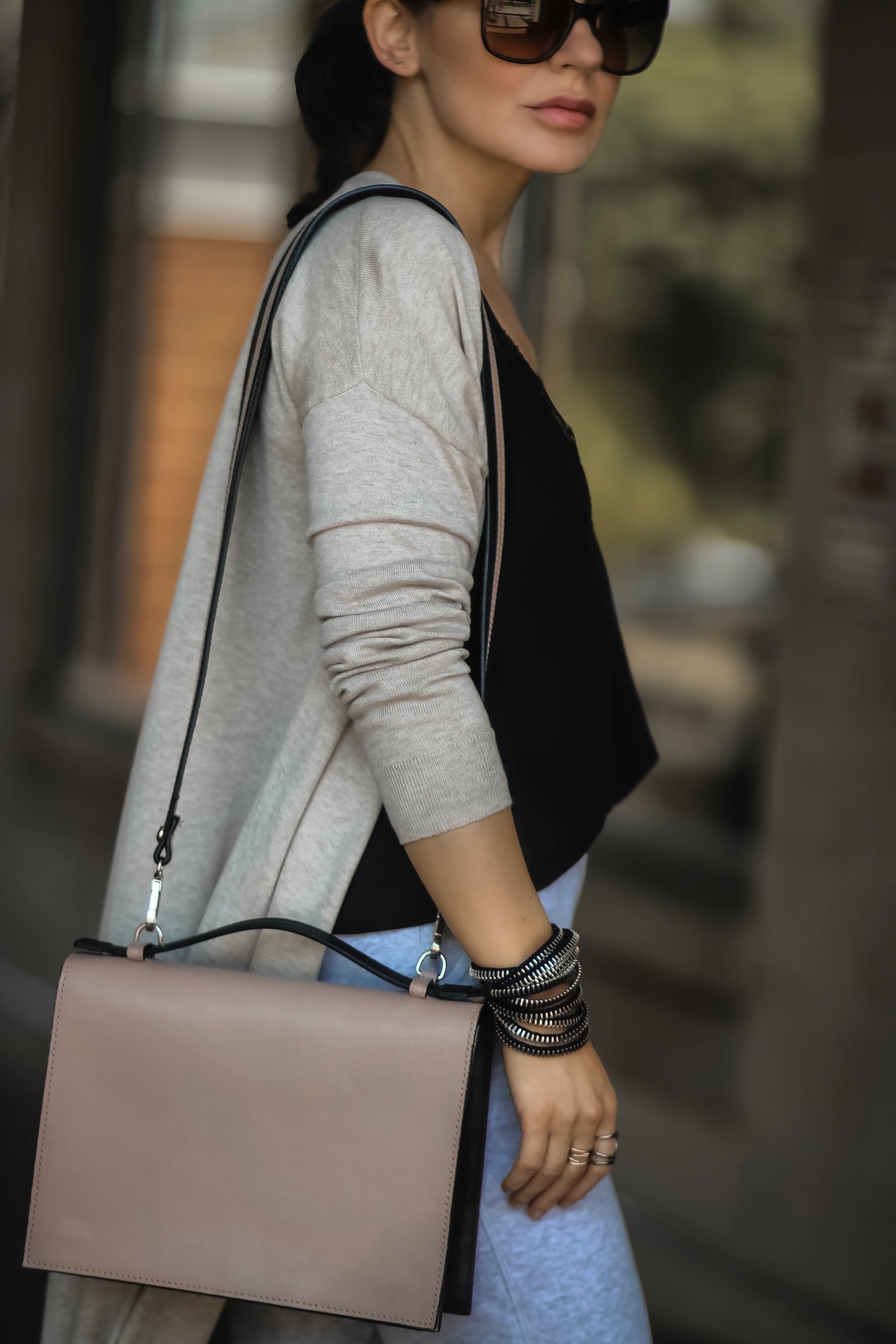 SHOP THE EDIT:
LOOK 1: OLD NAVY Cardigan (OLD & embellished with chain detail by me); similar HERE and HERE//AERIE joggers (available in charcoal grey and light grey)//GINA shoes (OLD), similar style HERE and HERE //BOYY bag (SOLD OUT); similar style HERE //THE DARK SHOP bracelets, HERE, also similar HERE//VITA FEDE bracelet//
LOOK 2: ANN TAYLOR LOFT cami (SOLD OUT), similar HERE, HERE and HERE//AERIE joggers (available in charcoal grey and light grey)//GINA shoes (OLD), similar style HERE and HERE //BOYY bag (SOLD OUT); similar style HERE //MICHAEL KORS studded bag (SOLD OUT), similar HERE and HERE //H&M scarf (SOLD OUT), similar HERE and HERE //THE DARK SHOP bracelets, HERE, also similar HERE//VITA FEDE bracelet//
LOOK 3: ANN TAYLOR LOFT cami (SOLD OUT), similar HERE, HERE and HERE//AERIE joggers (available in charcoal grey and light grey)//ASOS shoes (available in multiple colors)//CAMELIA ROMA bag ////THE DARK SHOP bracelets, HERE, also similar HERE//VITA FEDE bracelet//
Thank you so much for stopping by. I hope you enjoyed this post and if you did, feel free to SHARE IT. You can also find me on INSTAGRAM where I post daily outfits, style tips, and some of the things that I like or enjoy in my day-to-day life :-)
I am also on now on MEDIUM and BLOGLOVIN, so, come say hi there as well :-)).
SUBSCRIBE HERE if you would like to receive a weekly cheeky hello in your inbox from me whenever a new blog post is up. You can also chat me up and let me know what fashion issues keep you up at night :-)
And if you missed my latest posts, you can read them here:
And that, my chic ones, concludes, today's blog post. I hope you enjoyed it and if you did, let me know below in the COMMENTS' section.
XX
Isabel