Express Black Cami + American Eagle Distressed White Denim: An All American Summer Look for the Cool Girl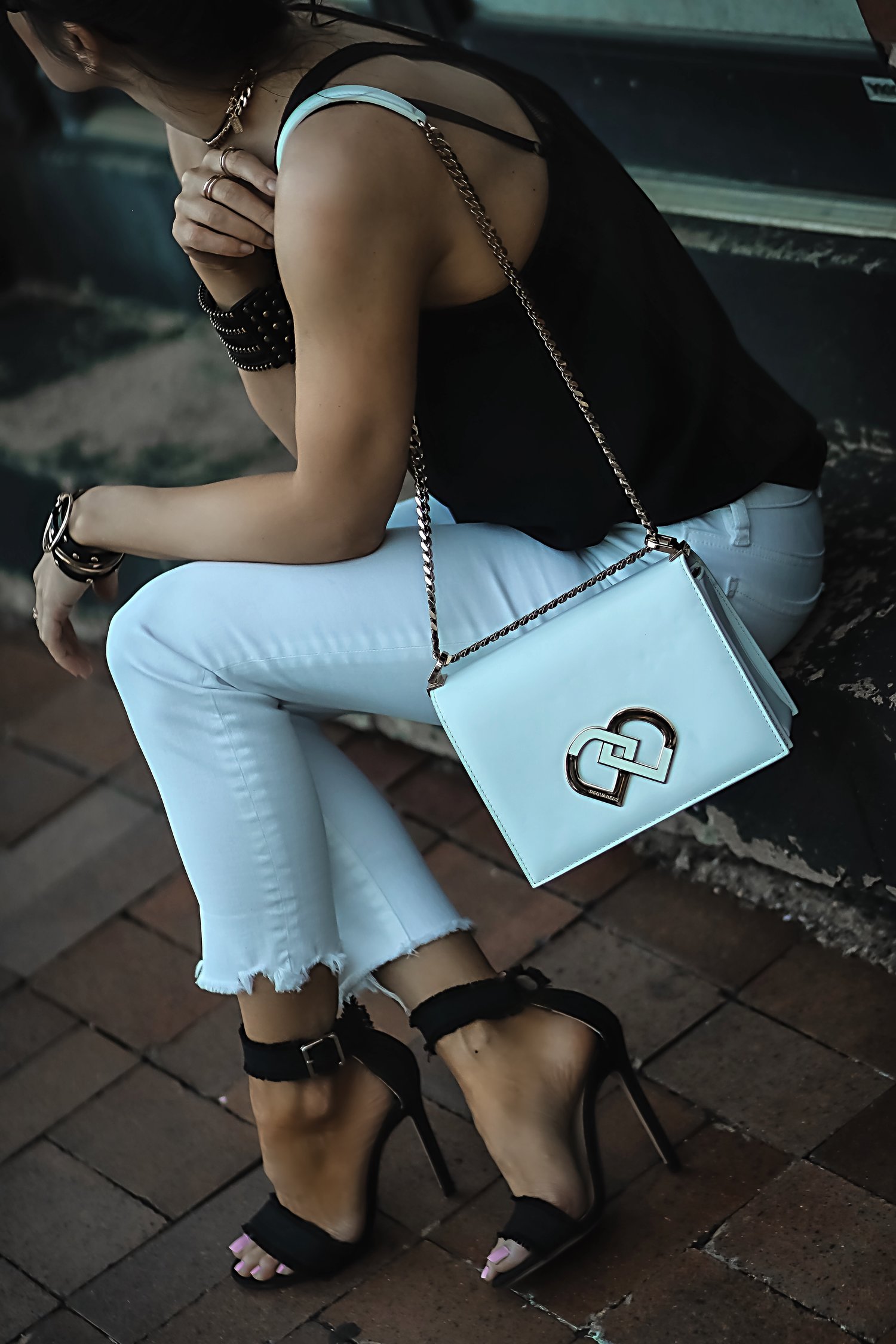 You know when you see it but you don't quite know why you like it. It is that outfit that is so familiar and elegant in its simplicity and then you take a closer look at it and when you start breaking it down you realize that the outfit itself is made of a simple cami and denim. You also realize that you could have easily put it together yourself, it just didn't cross your mind. So, today, we will discuss the mechanics of that simple cami and denim outfit, and specifically, I'll show you how to style a black cami with a distressed white denim to get that all-American cool girl summer look.
It is always the simplest ones that are the most difficult to achieve because simple elegance lays in perfection of details. One of my favorite quotes is: "Perfection is attained, not when there is nothing more to add, but when there is nothing more to remove." (Antoine de Saint-Exupery). Below, as usual see my style tips on how I style my cami-denim outfits.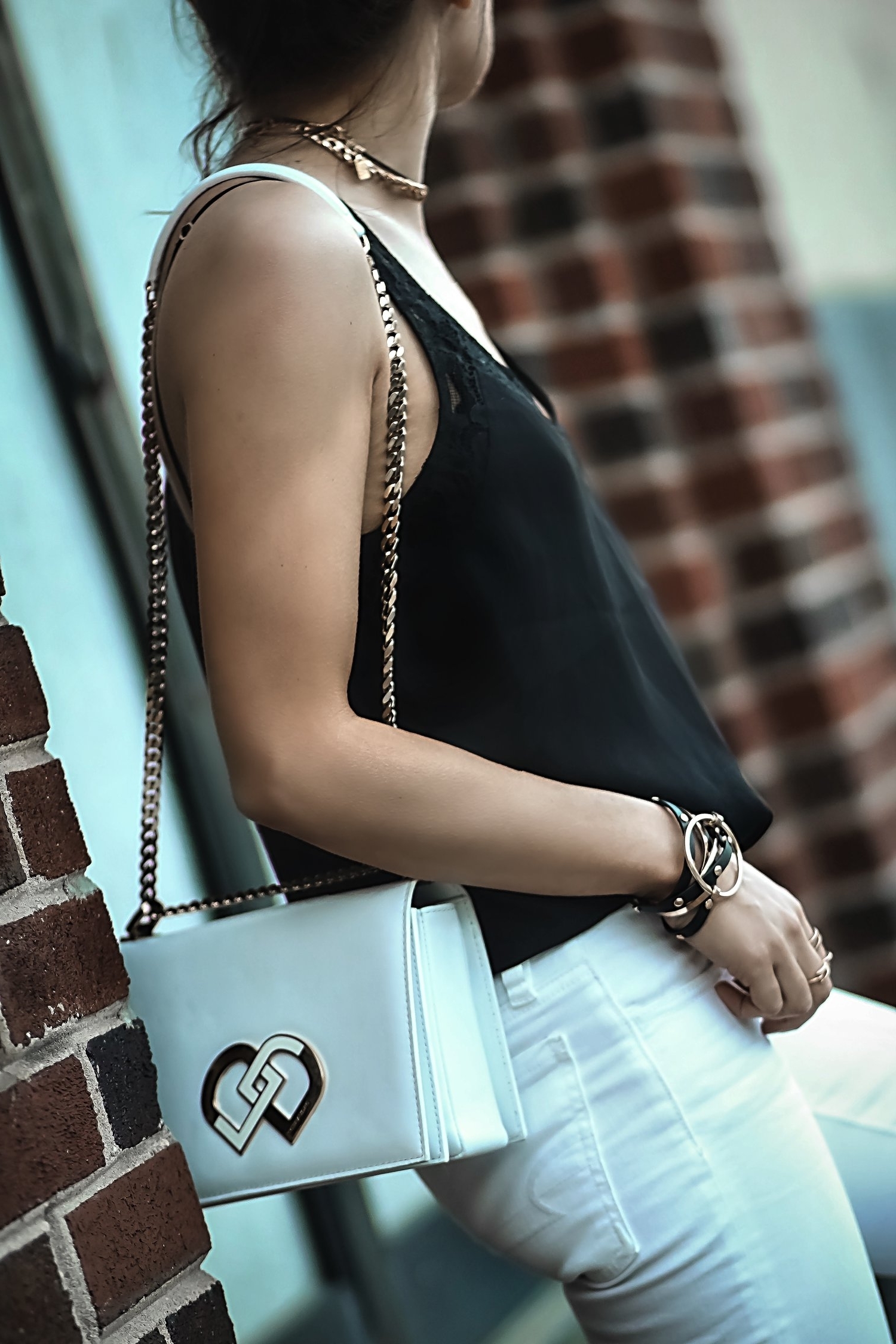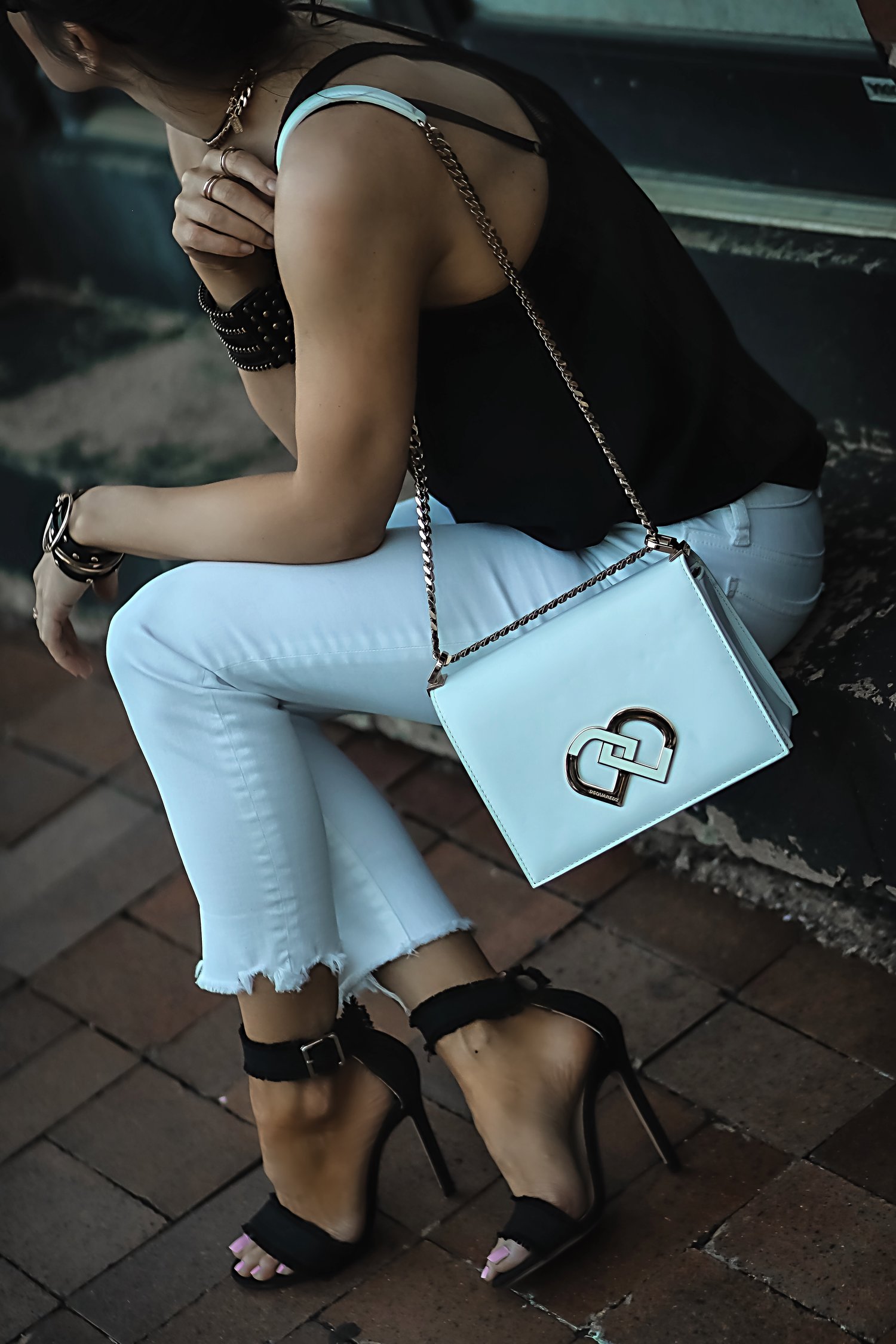 STYLE TIPS:
Pick a very plain cami with a V-shape. Silk is always a great choice. If price is an issue, go for a shinier fabric with lace trim. That will add some polish.
Ensure a looser fit for the cami. That will contrast well with the denim and balance the outfit. It will add a dose of polish and refinement to your denim.
Pick skinny of straight cut denim in dark washes or white, like me. the fit of your denim is the key to ensure a flattering fit especially on your hips and ankles. Your jeans should always fit perfectly on your hips and if you are going for the skinny style, go for a one that hits slightly above your ankle so that you can show off your pretty strappy heels and bronzed feet and pedis :-). This is especially important for us petite ladies.
Pick strappy heels. I love to showcase the strap of the sandals as I feel like it elongates my legs. Single straps are great for the occasion and went for a classic black strappy heel but you can go bolder with a silver heel if you prefer.
Accessorize smartly with crossbody bags that hit slightly above your hip. Again, this is especially important for petites as I especially see petite women who have bags that hit at the hip or lower which is a very unappealing look. I routinely shorten the straps on my bags by removing links (when the straps are made of metal chains) or by taking them to my cobbler and making extra holes so that I can shorten the strap (for the leather straps). The length is very very important. If the strap looks too long it will shorten you and you will end up looking like you raided your mom's closet :-)
SHOP THE EDIT:
Thank you so much for stopping by. I hope you enjoyed this post and if you did, feel free to SHARE IT. You can also find me on INSTAGRAM where I post daily outfits, style tips, and some of the things that I like or enjoy in my day-to-day life :-)
I am also on now on MEDIUM and BLOGLOVIN, so, come say hi there as well :-)).
SUBSCRIBE HERE if you would like to receive a weekly cheeky hello in your inbox from me whenever a new blog post is up. You can also chat me up and let me know what fashion issues keep you up at night :-)
And if you missed my latest posts, you can read them here:
And that, my chic ones, is it for today !
A quick update: I have decided to post blog posts on Wednesdays and Saturdays going forward, so, stay tuned for bi-weekly posts on those days.
Expect daily posts on my Instagram, as usual.
I hope you enjoyed this post, and if you did, let me know below in the COMMENTS section.
XX
Isabel