The Perfect Striped Boyfriend Blazer for Petites | How to Add Some Edge to Your Outfit This Summer
Well well then, it is the month of June it is officially summer, so we need to talk summer outfits. I have been agonizing over the striped blazer trend and whether it is one worth following. After some long deliberation, I decided that this trend is a yes for me and also a yes for petites, and actually the rest of fashionistas, simply because, it is generally very flattering to our small frames because of the elongating effect and hence, very flattering to all shapes and sizes.
So, today, I will share some tips on how to find and style the perfect striped boyfriend blazer for petites ( and the rest) and add some edge to your outfit this summer.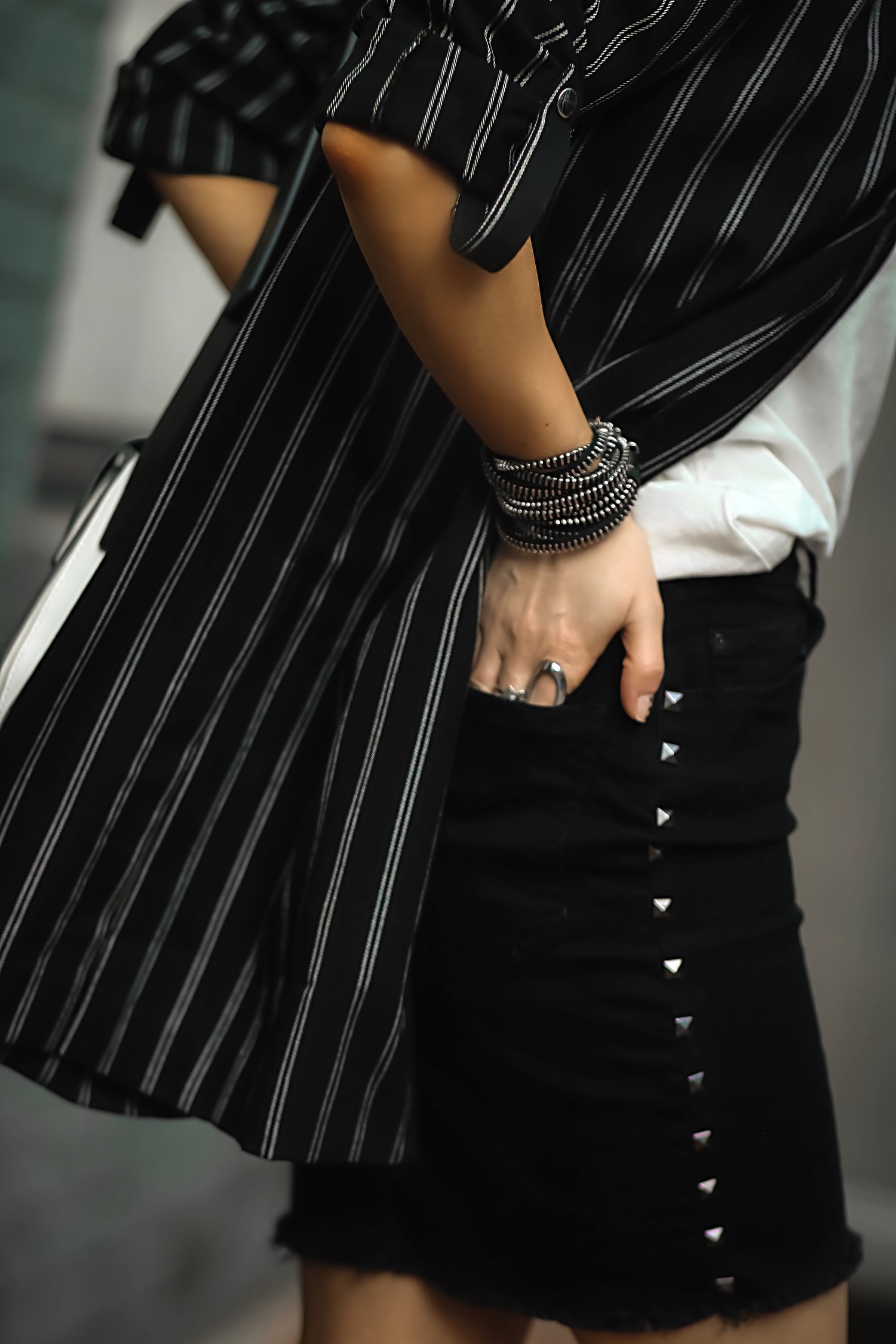 STYLE TIPS:
Pick a black striped blazer. While the white and grey ones are more summery looking, the black color is more elongating, more forgiving, and more versatile. Not only will you be able to cover up some, curvy parts if need be, but you'll also have more styling options as the black blazer is perfect for the office, play or formal affairs.
Pick one that has a "boyfriend" cut. That means that it is not fitted and you can cinch it with a belt if you want, or leave loose over denim or mini skirts, like I am wearing it here, or wear at the office, layer it over other pieces if it is a little cooler etc. A boyfriend cut is more modern, more forgiving and more versatile. it is also less formal and edgier.
Find one that has a lining, preferably. Most of the summer blazers will be made of thinner fabric and if they are unlined, they tend to look a little flimsier and they cling to the skin. If they are lined (and it is a good silk lining preferably or another natural fiber) it will keep you cooler, it will stay firmer and won't cling to your skin. Why do you think the quality suits are always lined?
Make sure they are not too long. If you pick one that is too long, then the effect is exactly the opposite - they will shorten you. So pick one that hits at least a palm above your knee.
pair them with those white graphic or log tees that are so in right now. It will make a great fresh combo. Whether you want to wear them with a skirt or skinny jeans, I will leave it up to you but you will need to go with something a little more body-hugging since the blazer offers the volume in the silhouette. So, whether you pick a skirt or denim, ensure they follow your figure and are not too loose and you are good to go.So, whether you pick a skirt or denim, ensure they are on the tighter side and you are goo to go.
SHOP THE EDIT:
Thank you so much for stopping by. I hope you enjoyed this post and if you did, feel free to SHARE IT. You can also find me on INSTAGRAM where I post daily outfits, style tips, and some of the things that I like or enjoy in my day-to-day life :-)
I am also on now on MEDIUM and BLOGLOVIN, so, come say hi there as well :-)).
SUBSCRIBE HERE if you would like to receive a weekly cheeky hello in your inbox from me whenever a new blog post is up. You can also chat me up and let me know what fashion issues keep you up at night :-)
And if you missed my latest posts, you can read them here:
I hope you enjoyed this post, and if you did, let me know below in the COMMENTS section.
XX
Isabel